See Geralt cut into Soul Calibur VI
A tired man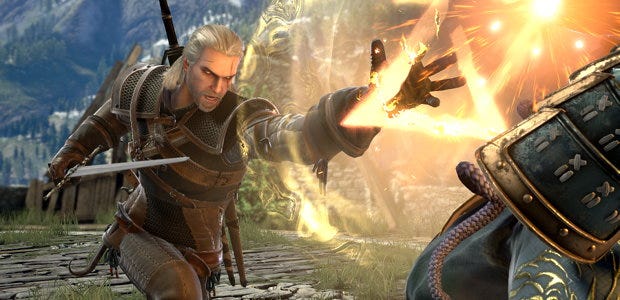 As rumoured and expected, Geralt of Rivia will indeed cross over into Soul Calibur VI. Everyone's seemingly known for ages that the monster-hunting hero The Witcher would appear in the upcoming fighting game sequel, but now it's official. One of my main interests in life is hearing Geralt talk in a weary voice so you betcha I'm up for throwing him through a portal into a new fightworld. He doesn't sound best pleased with the situation in this new trailer. Good.
Geralt will use his swords to stab people while pirouetting elegantly, as well as his magical sign powers and home-brewed potions to spice the action up. His witching home, Kaer Morhen, will appear as a level. And they're borrowing the song Hunt Or Be Hunted off the Witcher 3 soundtrack too.
Our Katharine expressed hope that he'll also call in his horse, Roach, and I certainly want to see a horse kick an anime in the face. I'm hopeful that his mega-special move will be to sigh and look away in a way that makes opponents feel absolutely dreadful that they're putting him through this, more of this, all this, after everything. And our Adam will surely be delighted he can do... whatever it is he wants Geralt and Voldo to do I don't know I don't really follow.
I'm sure I don't understand.
As guest characters go, Soul Calibur has seen stranger. Previous visitors include Link from Zelda, Kratos out God of War, and Darth Vader and Yoda from Star Trek.
Soul Calibur VI is due out sometime later in 2018.