Spintires returning enhanced & expanded in MudRunner
GRRRNRNGNMMBRRGGGG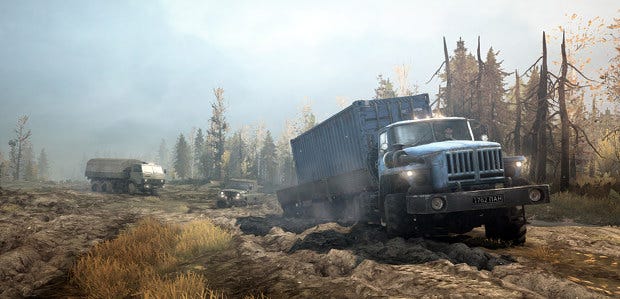 Back in 2014, the RPS treehouse shook with everyone thundering around pretending to be trucks stuck in squelching mud. Such was the captivating magic of Spintires, a serious simulation of simply trying to drive across rough Russian terrain. But ongoing development got bogged down by a drawn-out spat between developer Pavel Zagrebelny and publishers Oovee Game Studio, and Spintires seemed to be left to rust in the cybermud. Well! In a surprising and confusing twist, Spintires is back with a new edition coming from another studio and a different publisher (update: with Zagrebelny still leading it). Focus Home Interactive today announced Spintires: MudRunner [official site], an enhanced and expanded edition of Spintires coming in October.
Spintires: MudRunner is being worked on by Saber Interactive, the folks who made Will Rock and Inversion and also chip in on games including Quake Champions. Focus Home say what to expect:
"A huge upgrade over its predecessor, this edition comes complete with a brand new Sandbox Map joining the original game's 5 environments, a total graphical overhaul, a new Challenge mode with 9 new dedicated maps, 13 new vehicles and other comprehensive improvements."
Seeing as this is an upgrade rather than a sequel, folks who own the original Spintires on Steam will be offered a 50% discount.
No, I've no idea how a new Spintires is coming seemingly from a whole new set of people. Presumably Focus bought or licensed the rights but how did this come to pass and how much is Zagrebelny involved? Zagrebelny did discuss a new version during a Russian interview in July so it seems he's doing... stuff? But Focus only mention Saber. I've dropped Focus a line to ask what's going on.
Update: Focus Home tell us that Zagrebelny "is back at Saber Interactive as vision holder & lead dev on Spintires: MudRunner."
The development of Spintires has been confusing. Since its successful crowdfunding campaign in 2013, tensions between Zagrebelny and Oovee have left the game's fate in question. The back and forth over several years included accusations of Oovee abandoning it, temporary reconciliation, sabotage rumours and the game being pulled from sale, and fixes and returns and terse statements. Whatever the new arrangement is, Focus are at least a stable and predictable publisher.
It's a shame that all this hangs over such an interesting game. As Adam said in his Spintires review:
"In Spintires' world, feats are measured by inches of control rather than miles per hour, and the terrain churns and deforms as vehicles traverse it. It's a game in which overapplication of the throttle can doom the driver. It's verbs are not overtake, drift and vroom, but churn, grind and calculate. The latter is perhaps the most important. For all of that it is made of mess and mud, Spintires is a game of precision and care. To traverse the changing angles of the roughest terrain, every nudge of wheel and pedal must be perfectly timed and measured."
It feels so very PC gaming: a serious simulation of something so niche that it sounds like a gag game but is genuinely engrossing.