Spintires Now Back On Steam With Official Fix
Mud slinging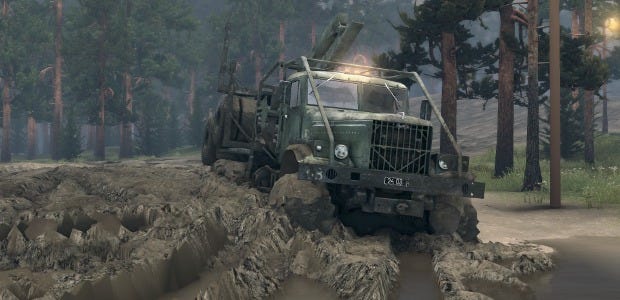 Spintires [official site] is now back on Steam and an official fix has been released for the crash bug, which was originally rumoured to be sabotage by the game's developer after a falling out with its publisher. That developer, Pavel Zagrebelny, denies it was sabotage and now seems to be possibly denying any rift with the publisher at all.
In an email exchange with PC Gamer, Zagrebelny attributed the original reports of missed payments from publisher Oovee "to the fact that he's just not very good at interviews, adding, '[I] say a lot of things that make everything worse.'" He refused to comment further on the current state of the relationship or whether payment issues had been resolved, so who knows what's going on.
For their part, Oovee write in the above Steam post about the fix that, "In the next few days we will release a full and frank statement regarding the cause of the problem and how we plan to avoid this happening again, as well as details of the next update we have been working on since the start of 2016 which we plan to start testing next week."
There are also instructions on the post about how to apply the update, which involves extra steps if you have mods installed and requires you to remove the user-created hotfix released earlier in the week.