Star Wars Battlefront Open Beta Dates Announced
Less than two weeks away, it is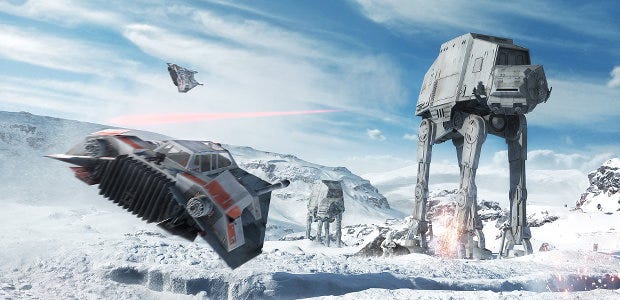 Sat there waiting patiently, you are. Wait no more, you shan't. It's coming it, na, sod it, I can't keep this up. Mark October 8 to October 12 in your diary as Star Wars Battlefront [official site] is heading for beta.
Here comes DICE's shooty-banging, storm trooper slaying, light sabre swishing interpretation of Star Wars and I'm still not sure of it. But, as players, that's what betas are for, eh? So what is this one promising?
Well, there's Walker Assault on Hoth, a 40-player battle which sees the Rebels step-to with the Empire, AT-ATs and Y-wing bombers galore. Then there's Drop Zone on Sullust which marches players into 8v8 bouts, fighting for control over falling escape pods. Then there's Survival Mission on Tatooine, a single player or online co-op or split-screen endeavour, which has you pit against waves of Imperial forces, AT-STs, TIE fighters, elite stormtroopers and "more". There's also a level five cap and stats and progression are non-transferable to the game's full release version.
Whilst all of this sounds nice, and the recent news that Battlefront will have dedicated servers is a definite plus, I'm still not sure this one's for me. Graham had a brief bash at Gamescom this year and felt the same but, again, getting to grips with the beta may change that. Come October 8 I might be whistling a different tune.
October the 8th, eh. If I make a point of telling you I've body-swerved a joke along the lines of "October the 8th be with you", I've still indirectly told the joke whilst simultaneously distancing myself from it completely. Smart arse, I am.
When the time comes, the the download will be under the Demo & Betas section of the Origin store.