Stardew Valley cheats and console commands (v1.5)
Cheating made easy in Stardew Valley!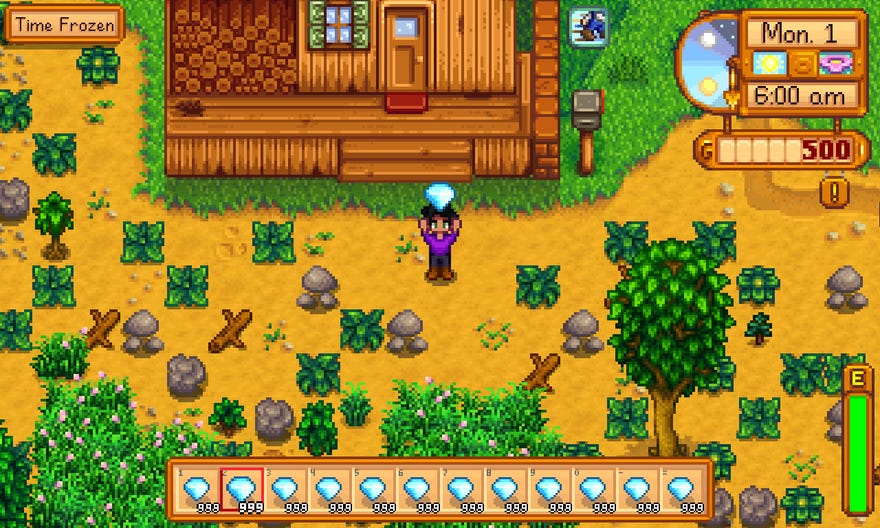 Stardew Valley may be a wonderful game, but there's no denying it imposes excessive limits upon the player. Every item has prerequisites, and the productivity of each day is dictated by your energy and the inevitable march of time. But our Stardew Valley cheats guide will walk you through how to break down all these limitations, from pausing time to spawning items, from insta-completing quests to giving yourself unlimited money - and much, much more.
Stardew Valley cheats and console commands (v1.5)
Broadly speaking there are two ways of introducing Stardew Valley cheats into your game - with mods and without mods. My advice is: please, please use mods. I know using mods can be scary if you've never done it before, but I'll walk you through every step, and it makes things so much easier.
Stardew Valley cheats - with mods
By far the best way to enable all sorts of cheats in your Stardew Valley game is using two specific mods: the CJB Cheats Menu, and the CJB Item Spawner. To install them both, you'll first need to download and install another mod (don't panic) called SMAPI.
All this can be sorted in about five minutes. Here's what to do:
If you don't already have a Nexus Mods account, create one so you can start downloading mods.
Download SMAPI. Extract the downloaded folder into your Downloads folder, open it up, and run the .bat file.
Follow the instructions in the window to install SMAPI.
After installation you'll receive a message that states "SMAPI is installed! If you use Steam, set your launch options to enable achievements (see smapi.io/install):" followed by another line. Copy this line in its entirety (including the quotes and the "%command%" at the end).
Right-click on Stardew Valley in your Steam Library, click Properties, then Set Launch Options, and paste the copied text into the text box that appears. Then click Okay, and close everything down.
Download both the CJB Cheats Menu mod and the CJB Item Spawner mod. Extract the contents of each downloaded zip file into your Mods folder under "Program Files (x86)/Steam/steamapps/common/Stardew Valley".
Run Stardew Valley using Steam.
How to use the CJB mods to enable Stardew Valley cheats
Now you'll be able to hit 'p' at any time during your game to open up a dedicated Stardew Valley cheats menu, which will allow you to enable all sorts of wonderful cheats such as:
Infinite Health and Energy
Increased movement speed
Pausing/Unpausing time
Instantly completing quests
Altering relationships with NPCs
Changing the weather
And much more!
And with the Item Spawner mod, you can hit 'i' at any time to bring up the item spawner menu, from which you can easily select any item in the entire game and add it to your inventory. Super easy!
Thanks to SMAPI, you can also now use the SMAPI window that runs in the background of Stardew Valley to type in various console commands. See this Stardew Valley Wiki page for all the console commands you can use.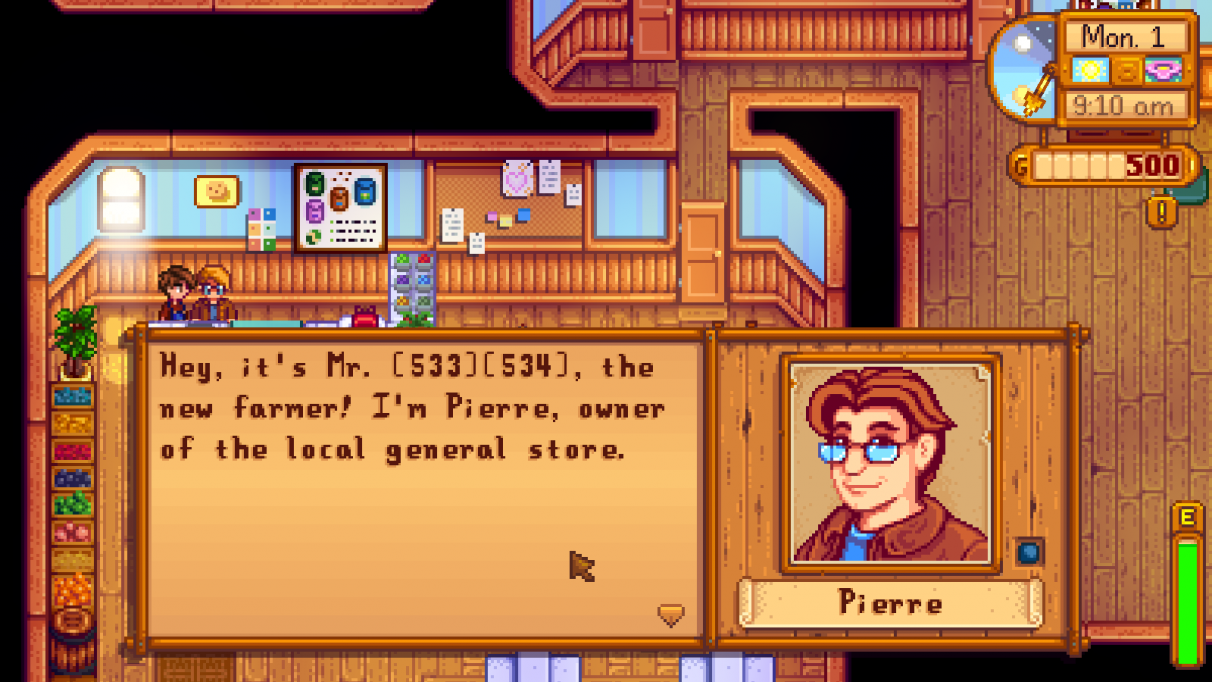 Stardew Valley cheats - without mods
Your aversion to mods is going to leave you much more limited in the types of Stardew Valley cheats available to you. But if you're really sure, here's how to use cheats without using the above mods.
Note that because most of these "cheats" are actually exploits caused by glitches or other errors in the game, there's an ever-present risk of them being patched out. There are unconfirmed reports that many of these cheats no longer work in the most up-to-date versions of Stardew Valley, though if you still have an older version saved somewhere, you should still be able to make use of them to your heart's content.
Infinite Energy glitch
Every you swing a weapon, your character moves forward very slightly. You can use this to glitch yourself beyond the boundaries of certain places, by pressing yourself up against the edge and swinging your weapon rapidly until you eventually break through to the "other side".
There are all sorts of uses for this glitch, but one of the most useful is to give yourself infinite Energy by tricking the game into thinking you're swimming. Do this by exiting the game's boundaries in the Spa, heading to the pool, placing down a post of any kind in the water, and then touching it. Now you can leave, and - because the game inexplicably thinks you're still swimming - you'll have infinite Energy.
Stop time while fishing
For this trick, you'll need to have an active quest in your journal. Simply open up your journal just after your cast your line, and time will stop - but you can still fish as usual, and reel in whatever takes the bait.
Stay up beyond 2am
You know how the moment 2am arrives on the clock your character yawns and passes out? You know how it's super annoying, because whoever comes and "saves" you also takes a portion of your funds for the trouble?
Well, with a bit of timing you can stay out past 2am and avoid this unfortunate circumstance. All you need to do is open your journal while your character is in the middle of their yawning animation. This will stave off the tiredness just a little longer. It's not ideal as you'll have to keep opening and closing the journal, but it's a good way to avoid passing out while hurrying back home.
Gold Spring Onions cheat
Gold-quality Spring Onions are a premium item in Stardew Valley, granting bigger health and energy boosts when eaten, or selling for much more money if you don't choose to hang onto them for personal use.
To ensure that you only pick out the cream of the crop, fill your character's inventory to its maximum capacity — with contents including at least one gold spring onion and no spring onions of an inferior quality. When foraging thus encumbered, your character will only be able to pick up additional spring onions if they are of the best quality.
Galaxy Sword cheat
The Galaxy Sword, with its impressive speed and damage stats, is clearly intended as a late-game weapon. To obtain it legitimately, you need to take a Prismatic Shard (one of the rarest items in the game) to the Calico Desert and hold it up between the three pillars to forge the sword.
But if you want to get your hands on this undeniably shiny weapon early, you can effectively trick the game into giving it to you much more easily. Go to Pierre's General Store and drop 30,000g on the Catalogue that gives you unlimited access to all floors and wallpaper, then purchase the Green Wallpaper (#75).
Inexplicably, the game recognises said Green Wallpaper as a Prismatic Shard for some purposes — including transforming it into a Galaxy Sword if you take it to the pillars in the Calico Desert.
Item Duplication glitch (sell for unlimited money!)
The most lucrative of all these cheats is the item duplication glitch, which you may also consider an "infinite money" glitch as you can sell all the duplicated items you want.
To duplicate items, you'll need to name your character using between one and three Item ID Codes (see below). Every item in the game has a unique code (for example, Diamond is 72, and Cranberry Sauce is 238). And whenever those numbers appear in a dialogue window, surrounded by square brackets, the specified items will appear in your inventory.
So, if you name your character "[72][373][769]" (without the quotes), then every time your name appears in dialogue you'll be gifted a Diamond, a Golden Pumpkin, and some Void Essence for free.
The best way to abuse this cheat is to talk to Gus at the Stardrop Saloon. He'll say your name at the beginning of every conversation (after the first), so you can easily spam conversations with him to get unlimited items for free.
Stardew Valley Item Codes (Item IDs)
Below is a full list of all Item Codes in Stardew Valley that you can use with the above Item Duplication glitch.
| Stardew Valley Item Codes | | |
| --- | --- | --- |
| Weeds: [0] | Stone: [2] | Stone: [4] |
| Wild Horseradish: [16] | Daffodil: [18] | Leek: [20] |
| Dandelion: [22] | Parsnip: [24] | Lumber: [30] |
| Emerald: [60] | Aquamarine: [62] | Ruby: [64] |
| Amethyst: [66] | Topaz: [68] | Jade: [70] |
| Diamond: [72] | Prismatic Shard: [74] | Stone: [75] |
| Stone: [76] | Stone: [77] | Cave Carrot: [78] |
| Secret Note: [79] | Quartz: [80] | Fire Quartz: [82] |
| Frozen Tear: [84] | Earth Crystal: [86] | Coconut: [88] |
| Cactus Fruit: [90] | Sap: [92] | Torch: [93] |
| Spirit Torch: [94] | Dwarf Scroll I: [96] | Dwarf Scroll II: [97] |
| Dwarf Scroll III: [98] | Dwarf Scroll IV: [99] | Chipped Amphora: [100] |
| Arrowhead: [101] | Lost Book: [102] | Ancient Doll: [103] |
| Elvish Jewelry: [104] | Chewing Stick: [105] | Ornamental Fan: [106] |
| Dinosaur Egg: [107] | Rare Disc: [108] | Ancient Sword: [109] |
| Rusty Spoon: [110] | Rusty Spur: [111] | Rusty Cog: [112] |
| Chicken Statue: [113] | Ancient Seed: [114] | Prehistoric Tool: [115] |
| Dried Starfish: [116] | Anchor: [117] | Glass Shards: [118] |
| Bone Flute: [119] | Prehistoric Handaxe: [120] | Dwarvish Helm: [121] |
| Dwarf Gadget: [122] | Ancient Drum: [123] | Golden Mask: [124] |
| Golden Relic: [125] | Strange Doll: [126] | Strange Doll: [127] |
| Pufferfish: [128] | Anchovy: [129] | Tuna: [130] |
| Sardine: [131] | Bream: [132] | Largemouth Bass: [136] |
| Smallmouth Bass: [137] | Rainbow Trout: [138] | Salmon: [139] |
| Walleye: [140] | Perch: [141] | Carp: [142] |
| Catfish: [143] | Pike: [144] | Sunfish: [145] |
| Red Mullet: [146] | Herring: [147] | Eel: [148] |
| Octopus: [149] | Red Snapper: [150] | Squid: [151] |
| Seaweed: [152] | Green Algae: [153] | Sea Cucumber: [154] |
| Super Cucumber: [155] | Ghostfish: [156] | White Algae: [157] |
| Stonefish: [158] | Crimsonfish: [159] | Angler: [160] |
| Ice Pip: [161] | Lava Eel: [162] | Legend Fish: [163] |
| Sandfish: [164] | Scorpion Carp: [165] | Treasure Chest: [166] |
| Joja Cola: [167] | Trash: [168] | Driftwood: [169] |
| Broken Glasses: [170] | Broken CD: [171] | Soggy Newspaper: [172] |
| Large Egg: [174] | Egg: [176] | Hay: [178] |
| Egg: [180] | Large Egg: [182] | Milk: [184] |
| Large Milk: [186] | Green Bean: [188] | Cauliflower: [190] |
| Potato: [192] | Fried Egg: [194] | Omelet: [195] |
| Salad: [196] | Cheese Cauliflower: [197] | Baked Fish: [198] |
| Parsnip Soup: [199] | Vegetable Medley: [200] | Complete Breakfast: [201] |
| Fried Calamari: [202] | Strange Bun: [203] | Lucky Lunch: [204] |
| Fried Mushroom: [205] | Pizza: [206] | Bean Hotpot: [207] |
| Glazed Yams: [208] | Carp Surprise: [209] | Hashbrowns: [210] |
| Pancakes: [211] | Salmon Dinner: [212] | Fish Taco: [213] |
| Crispy Bass: [214] | Pepper Poppers: [215] | Bread: [216] |
| Tom Kha Soup: [218] | Trout Soup: [219] | Chocolate Cake: [220] |
| Pink Cake: [221] | Rhubarb Pie: [222] | Cookie: [223] |
| Spaghetti: [224] | Fried Eel: [225] | Spicy Eel: [226] |
| Sashimi: [227] | Maki Roll: [228] | Tortilla: [229] |
| Red Plate: [230] | Eggplant Parmesan: [231] | Rice Pudding: [232] |
| Ice Cream: [233] | Blueberry Tart: [234] | Autumn's Bounty: [235] |
| Pumpkin Soup: [236] | Super Meal: [237] | Cranberry Sauce: [238] |
| Stuffing: [239] | Farmer's Lunch: [240] | Survival Burger: [241] |
| Dish O' The Sea: [242] | Miner's Treat: [243] | Roots Platter: [244] |
| Sugar: [245] | Wheat Flour: [246] | Oil: [247] |
| Garlic: [248] | Kale: [250] | Rhubarb: [252] |
| Melon: [254] | Tomato: [256] | Morel: [257] |
| Blueberry: [258] | Fiddlehead Fern: [259] | Hot Pepper: [260] |
| Wheat: [262] | Radish: [264] | Red Cabbage: [266] |
| Starfruit: [268] | Corn: [270] | Eggplant: [272] |
| Artichoke: [274] | Pumpkin: [276] | Bok Choy: [278] |
| Yam: [280] | Chanterelle: [281] | Cranberries: [282] |
| Holly: [283] | Beet: [284] | Cherry Bomb: [286] |
| Bomb: [287] | Mega Bomb: [288] | Stone: [290] |
| Twig: [294] | Twig: [295] | Salmonberry: [296] |
| Grass Starter: [297] | Hardwood Fence: [298] | Amaranth Seeds: [299] |
| Amaranth: [300] | Grape Starter: [301] | Hops Starter: [302] |
| Pale Ale: [303] | Hops: [304] | Void Egg: [305] |
| Mayonnaise: [306] | Duck Mayonnaise: [307] | Void Mayonnaise: [308] |
| Acorn: [309] | Maple Seed: [310] | Pine Cone: [311] |
| Weeds: [313] | Weeds: [314] | Weeds: [315] |
| Weeds: [316] | Weeds: [317] | Weeds: [318] |
| Weeds: [319] | Weeds: [320] | Weeds: [321] |
| Wood Fence: [322] | Stone Fence: [323] | Iron Fence: [324] |
| Gate: [325] | Dwarvish Translation Guide: [326] | Wood Floor: [328] |
| Stone Floor: [329] | Clay: [330] | Weathered Floor: [331] |
| Crystal Floor: [333] | Copper Bar: [334] | Iron Bar: [335] |
| Gold Bar: [336] | Iridium Bar: [337] | Refined Quartz: [338] |
| Honey: [340] | Tea Set: [341] | Pickles: [342] |
| Stone: [343] | Jelly: [344] | Beer: [346] |
| Rare Seed: [347] | Wine: [348] | Energy Tonic: [349] |
| Juice: [350] | Muscle Remedy: [351] | Basic Fertilizer: [368] |
| Quality Fertilizer: [369] | Basic Retaining Soil: [370] | Quality Retaining Soil: [371] |
| Clam: [372] | Golden Pumpkin: [373] | Poppy: [376] |
| Copper Ore: [378] | Iron Ore: [380] | Coal: [382] |
| Gold Ore: [384] | Iridium Ore: [386] | Wood: [388] |
| Stone: [390] | Nautilus Shell: [392] | Coral: [393] |
| Rainbow Shell: [394] | Coffee: [395] | Spice Berry: [396] |
| Sea Urchin: [397] | Grape: [398] | Spring Onion: [399] |
| Strawberry: [400] | Straw Floor: [401] | Sweet Pea: [402] |
| Field Snack: [403] | Common Mushroom: [404] | Wood Path: [405] |
| Wild Plum: [406] | Gravel Path: [407] | Hazelnut: [408] |
| Crystal Path: [409] | Blackberry: [410] | Cobblestone Path: [411] |
| Winter Root: [412] | Blue Slime Egg: [413] | Crystal Fruit: [414] |
| Stepping Stone Path: [415] | Snow Yam: [416] | Sweet Gem Berry: [417] |
| Crocus: [418] | Vinegar: [419] | Red Mushroom: [420] |
| Sunflower: [421] | Purple Mushroom: [422] | Rice: [423] |
| Cheese: [424] | Fairy Seeds: [425] | Goat Cheese: [426] |
| Tulip Bulb: [427] | Cloth: [428] | Jazz Seeds: [429] |
| Truffle: [430] | Sunflower Seeds: [431] | Truffle Oil: [432] |
| Coffee Bean: [433] | Stardrop: [434] | Goat Milk: [436] |
| Red Slime Egg: [437] | L. Goat Milk: [438] | Purple Slime Egg: [439] |
| Wool: [440] | Explosive Ammo: [441] | Duck Egg: [442] |
| Duck Feather: [444] | Rabbit's Foot: [446] | Stone Base: [449] |
| Stone: [450] | Weeds: [452] | Poppy Seeds: [453] |
| Ancient Fruit: [454] | Spangle Seeds: [455] | Algae Soup: [456] |
| Pale Broth: [457] | Bouquet: [458] | Mead: [459] |
| Mermaid's Pendant: [460] | Decorative Pot: [461] | Drum Block: [463] |
| Flute Block: [464] | Speed-Gro: [465] | Deluxe Speed-Gro: [466] |
| Parsnip Seeds: [472] | Bean Starter: [473] | Cauliflower Seeds: [474] |
| Potato Seeds: [475] | Garlic Seeds: [476] | Kale Seeds: [477] |
| Rhubarb Seeds: [478] | Melon Seeds: [479] | Tomato Seeds: [480] |
| Blueberry Seeds: [481] | Pepper Seeds: [482] | Wheat Seeds: [483] |
| Radish Seeds: [484] | Red Cabbage Seeds: [485] | Starfruit Seeds: [486] |
| Corn Seeds: [487] | Eggplant Seeds: [488] | Artichoke Seeds: [489] |
| Pumpkin Seeds: [490] | Bok Choy Seeds: [491] | Yam Seeds: [492] |
| Cranberry Seeds: [493] | Beet Seeds: [494] | Spring Seeds: [495] |
| Summer Seeds: [496] | Fall Seeds: [497] | Winter Seeds: [498] |
| Ancient Seeds: [499] | Small Glow Ring: [516] | Glow Ring: [517] |
| Small Magnet Ring: [518] | Magnet Ring: [519] | Slime Charmer Ring: [520] |
| Warrior Ring: [521] | Vampire Ring: [522] | Savage Ring: [523] |
| Ring of Yoba: [524] | Sturdy Ring: [525] | Burglar's Ring: [526] |
| Iridium Band: [527] | Jukebox Ring: [528] | Amethyst Ring: [529] |
| Topaz Ring: [530] | Aquamarine Ring: [531] | Jade Ring: [532] |
| Emerald Ring: [533] | Ruby Ring: [534] | Geode: [535] |
| Frozen Geode: [536] | Magma Geode: [537] | Alamite: [538] |
| Bixite: [539] | Baryte: [540] | Aerinite: [541] |
| Calcite: [542] | Dolomite: [543] | Esperite: [544] |
| Fluorapatite: [545] | Geminite: [546] | Helvite: [547] |
| Jamborite: [548] | Jagoite: [549] | Kyanite: [550] |
| Lunarite: [551] | Malachite: [552] | Neptunite: [553] |
| Lemon Stone: [554] | Nekoite: [555] | Orpiment: [556] |
| Petrified Slime: [557] | Thunder Egg: [558] | Pyrite: [559] |
| Ocean Stone: [560] | Ghost Crystal: [561] | Tigerseye: [562] |
| Jasper: [563] | Opal: [564] | Fire Opal: [565] |
| Celestine: [566] | Marble: [567] | Sandstone: [568] |
| Granite: [569] | Basalt: [570] | Limestone: [571] |
| Soapstone: [572] | Hematite: [573] | Mudstone: [574] |
| Obsidian: [575] | Slate: [576] | Fairy Stone: [577] |
| Star Shards: [578] | Prehistoric Scapula: [579] | Prehistoric Tibia: [580] |
| Prehistoric Skull: [581] | Skeletal Hand: [582] | Prehistoric Rib: [583] |
| Prehistoric Vertebra: [584] | Skeletal Tail: [585] | Nautilus Fossil: [586] |
| Amphibian Fossil: [587] | Palm Fossil: [588] | Trilobite: [589] |
| Artifact Spot: [590] | Tulip: [591] | Summer Spangle: [593] |
| Fairy Rose: [595] | Blue Jazz: [597] | Sprinkler: [599] |
| Plum Pudding: [604] | Artichoke Dip: [605] | Stir Fry: [606] |
| Roasted Hazelnuts: [607] | Pumpkin Pie: [608] | Radish Salad: [609] |
| Fruit Salad: [610] | Blackberry Cobbler: [611] | Cranberry Candy: [612] |
| Apple: [613] | Bruschetta: [618] | Quality Sprinkler: [621] |
| Cherry Sapling: [628] | Apricot Sapling: [629] | Orange Sapling: [630] |
| Peach Sapling: [631] | Pomegranate Sapling: [632] | Apple Sapling: [633] |
| Apricot: [634] | Orange: [635] | Peach: [636] |
| Pomegranate: [637] | Cherry: [638] | Iridium Sprinkler: [645] |
| Coleslaw: [648] | Fiddlehead Risotto: [649] | Poppyseed Muffin: [651] |
| Stone: [668] | Stone: [670] | Weeds: [674] |
| Weeds: [675] | Weeds: [676] | Weeds: [677] |
| Weeds: [678] | Weeds: [679] | Green Slime Egg: [680] |
| Rain Totem: [681] | Mutant Carp: [682] | Bug Meat: [684] |
| Bait: [685] | Spinner: [686] | Dressed Spinner: [687] |
| Warp Totem Farm: [688] | Warp Totem Mountains: [689] | Warp Totem Beach: [690] |
| Barbed Hook: [691] | Lead Bobber: [692] | Treasure Hunter: [693] |
| Trap Bobber: [694] | Cork Bobber: [695] | Sturgeon: [698] |
| Tiger Trout: [699] | Bullhead: [700] | Tilapia: [701] |
| Chub: [702] | Magnet: [703] | Dorado: [704] |
| Albacore: [705] | Shad: [706] | Lingcod: [707] |
| Halibut: [708] | Hardwood: [709] | Crab Pot: [710] |
| Lobster: [715] | Crayfish: [716] | Crab: [717] |
| Cockle: [718] | Mussel: [719] | Shrimp: [720] |
| Snail: [721] | Periwinkle: [722] | Oyster: [723] |
| Maple Syrup: [724] | Oak Resin: [725] | Pine Tar: [726] |
| Chowder: [727] | Fish Stew: [728] | Escargot: [729] |
| Lobster Bisque: [730] | Maple Bar: [731] | Crab Cakes: [732] |
| Woodskip: [734] | Strawberry Seeds: [745] | Jack-O-Lantern: [746] |
| Rotten Plant: [747] | Rotten Plant: [748] | Omni Geode: [749] |
| Weeds: [750] | Stone: [751] | Stone: [760] |
| Stone: [762] | Stone: [764] | Stone: [765] |
| Slime: [766] | Bat Wing: [767] | Solar Essence: [768] |
| Void Essence: [769] | Mixed Seeds: [770] | Fiber: [771] |
| Oil of Garlic: [772] | Life Elixir: [773] | Wild Bait: [774] |
| Glacierfish: [775] | Weeds: [784] | Weeds: [785] |
| Weeds: [786] | Battery Pack: [787] | Lost Axe: [788] |
| Lucky Purple Shorts: [789] | Berry Basket: [790] | Weeds: [792] |
| Weeds: [793] | Weeds: [794] | Void Salmon: [795] |
| Slimejack: [796] | Pearl: [797] | Midnight Squid: [798] |
| Spook Fish: [799] | Blobfish: [800] | Wedding Ring: [801] |
| Cactus Seeds: [802] | Iridium Milk: [803] | |