Step Up: Path Of Exile Finally Launches
Begone beta.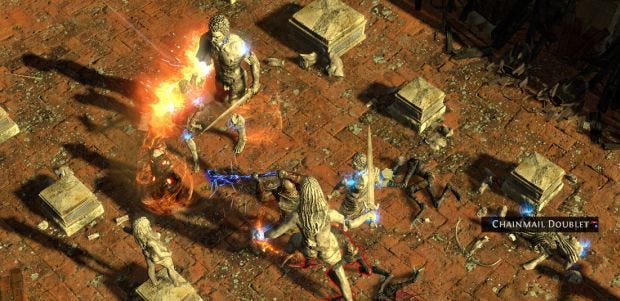 The journey along ARPG Path of Exile's beta has been a slippery one. It hasn't been salted, and no-one was around to prune the thorn bushes at the side. Repeated warnings from the Local Council of Blood and a visit from their emissaries, the feared Health & Safety of Ruin, proved ineffective. A meeting was called, in which the Neighbourhood Representatives of Anger unanimously decided to send in the Handyman of Pissed Off to fix things. The owners of the Path of Exile will be receiving an invoice, written in Jubjub blood, signed by the Coven of Claws, and notorised by Kevin. And with that work completed, all that's left is to open the Path of Exile fully, which is what will be happening at the end of the month

So, yeah. Grinding Gear's take on the action RPG goes properly, really, truly live on October 23rd. Not fake live like the closed and open betas it's been running for the past year. The full game will add a new prestige character class called the Scion, a female character available to those who've completed the game once. She can toss ghostly weapons. There will also be new gems, new areas to loot, and some additional bosses.
There is no release trailer(ah, Gametrailers have the exclusive trailer), but I found a pretty interesting video showing the game's inception. Let's step into the wibbly wobbly time machine and see what it looked like five years ago.
Soon we will truly find out if it is excile-ent, or path-etic.
Thanks Shacknews.