Stickman RPG West of Loathing due out in August
This is beans country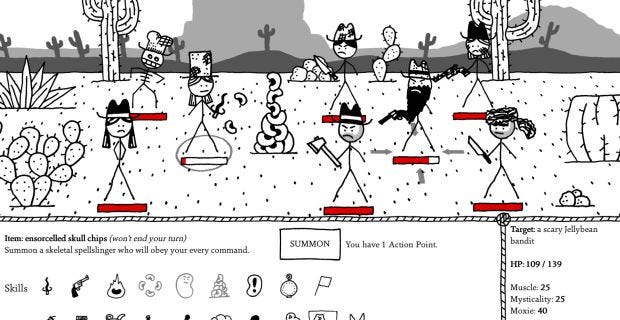 The love Alec once held deep in his heart for lo-fi MMORPG Kingdom of Loathing may have ebbed as the years passed, but wait 'til he finds out that its single-player western follow-up, West of Loathing [official site] is coming out some time next month. Or so say creators Asymmetric in a new trailer showing off a very quick playthrough of the prologue (they've compressed 23 minutes of mine-looting, snake-bashing and beer-drinking down to a 37 second timelapse). It was planned for release earlier this year, but you know videogames. Come see that trailer.

Like its online predecessor, it aims to offer a big ol' world of silliness to partake in. You'll just be doing it by yourself this time. They've previously described it as "like Skyrim, but with big hats and canned beans". But here's the type of thing you'll be up to, they say:
Customize yer hero with 3 character classes (Snake Oiler, Beanslinger, and Cow Puncher) and more than 50 stylish hats. Pick up random junk to boost yer skills and gain an advantage in combat. Befriend or be-enemy the other travelers you meet along the way. Shovel cow patties. Drink whiskey. And whatever you do, keep yer face off the Sherf's wanted posters... no good ever comes of that.
The original Kingdom of Loathing was still going ten years after its inception in 2003 and, guess what, it's still going today. At the time of writing there are 409 players logged in, swinging swords and trading meat as a currency. That's 14 years of free stickman nonsense. Good work. Meanwhile, the western successor is coming to PC, Mac and Linux some time in August.