Cowboys and clowns ride out with West of Loathing
Yeehaw!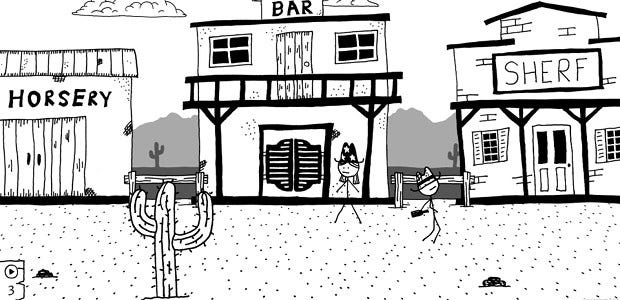 Delightfully daft MMO Kingdom of Loathing has escaped the confines of Internet browsers and gone west in new singleplayer RPG West of Loathing [official site]. You might have heard life is peaceful there in the open air, but it seems anything but in this standalone spin-off. Bandits, demon cows, goblins, skeletons, and clowns are among the horrors waiting for us as we quest, solve puzzles, and fight. Also, it has jokes -- laffs, rib-ticklers, funnies, jibes, the lot -- not to mention hats.
Have a gander at the launch trailer:
Developers Asymmetric say:
"Talk your way out of trouble as a silver-tongued Snake Oiler, plumb the refried mysteries of the cosmos as a wise and subtle Beanslinger, or let your fists do the talking as a fierce Cow Puncher. Explore a vast open world and encounter a colorful cast of characters, some of whom are good, many of whom are bad, and a few of whom are ugly."
West of Loathing is out for Windows, Mac, and Linux on Steam. Right now it costs £7.19/9,89€/$9.89, which includes a 10% launch discount offered for the first week.
Our Alec, who played a lot of Kingdom back in the day, is strapping on his spurs to tell us all Wot He Thinks of West. For now, he sends evidence of the most important part of any video game: the options menu.
Smashing.