Surprising: Metal Gear - Revengeance On PC Soon
Raidenotable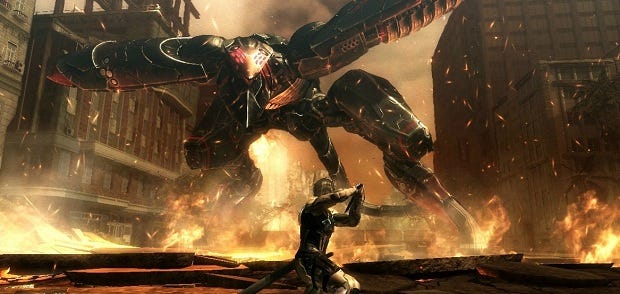 "Any day now" is the timeframe given for the release of Metal Gear Rising: Revengeance in a recent Kojima Productions Alert podcast. Responding to concerns that the port had been cancelled, host Sean Eyestone says that's not the case at all:
"It's in the final stages right now. You'll be seeing it pop up on Steam any day now."
This being the shooty-slicey side of Metal Gear rather than a game of the prowly-prolix variety, I'm hoping for DMC style silliness, with tongues thrust so far inside cheeks that everybody involved has begun to resemble the terrifying TV-dwelling puppet, Pob. I was slightly unnerved when I found a Youtube video containing every cutscene and cinematic in the game. It's two hours and nineteen minutes long. The opening cinematic is below - fancy another two hours of that sort of thing?
Considering how long it's been since we last heard any news of the PC version, I'd started to think it was never going to arrive. If it's half as self-aware and playful as it appears to be, it might well join DMC in the list of games I didn't expect to tolerate for more than five minutes, and ended up oddly enamoured with. I spend so much time looking at maps and stats that I sometimes forget that I've got a few drops of adrenalin left in the tank, as well as an undernourished funny bone.
Via Metal Gear Informer.