Sweet-Centred Discounts: Indie Piñata
Dev curated discounts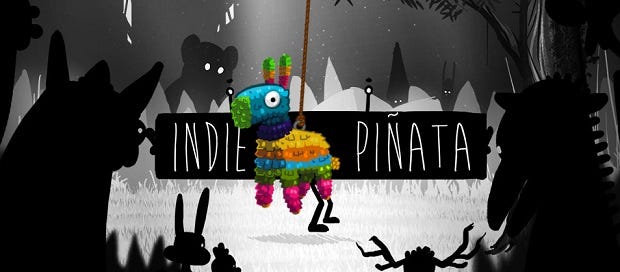 If one thing has become clear to me over the last couple of years, it's that Those Who Game need even more ways to spend their cash on discounted games. In the lull between digital sales events that are engineered with more precision than Black Friday's SWAT support, wallets are exposed to a paltry forty two thousand bundles and Steam has not yet incorporated second-long flash sales into its infrastructure.
Good news arrives in the form of Indie Piñata, a collection of games selected by developers. They're all on Steam and if you own one, you qualify for discounts on the rest. I'm not particularly interested in the discounts (too common), but I am intrigued by the idea of dev-curated collections. Particularly now that keeping track of 'new' releases on Steam has become rather difficult.
What is hopefully the first of many collections contains the following:
Mousecraft, NOT YET JUDGED.
Triple Town, sort of judged by John. The kinda follow-up looks smashing.
Contraption Maker is the recently released spiritual sequel to The Incredible Machine. Not judged but in my 'pending' box.
Flockers, not yet judged but I had a little go on it last week and quite enjoyed myself. Seems a tad more frantic than Lemmings, with levels built around control of flow as much as navigation around obstacles.
Super Splatters, studied by Craig.
Jack Lumber. The RPS archives return no data when the query 'Jack Lumber' is entered into the gramophone's ocular receptacle. The official site contains this dark warning - "Watch your cabin fill up with spunky forest critters that insist on crashing at your place after you have destroyed their woodland homes".
Dungeon Hearts is also absent from our archives. It's a fast-paced match-3 game.
If you own any of those (on Steam), you already qualify for a discount on the rest. And if you buy one, the discounts on the rest will unlock. To take advantage, click on the game of choice and follow the link to Steam, where the price will plummet in accordance with the power of piñata.