Sym Is A Game About Social Anxiety
A puzzle-platformer about issues of mental health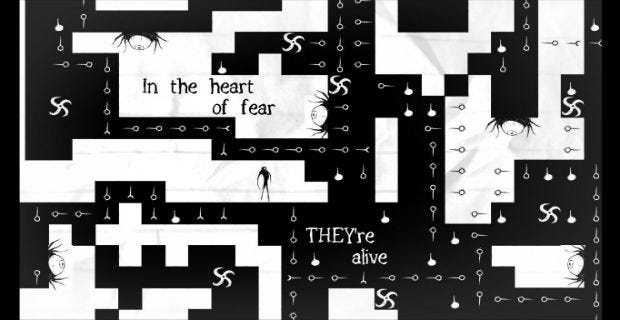 It's World Mental Health Day today, thus I wanted to draw your attention to Sym [official site]: a stylish, monochromatic puzzle platformer that portrays issues of mental health in a very unique way.
Josh, the game's protagonist, suffers from acute social anxiety disorder and has a tendency to shy away from social situations. This is portrayed metaphorically within Sym's abstruse world, where you must switch between light and dark areas, where Josh is encouraged to show more of himself if he wishes to overcome the game's puzzles.
What unfolds is an interesting, engaging and challenging platform game, and whilst Sym very quickly becomes about besting the next puzzle-some set-piece, Josh's inner-monologue is writ across the game's multitude of abstract spaces - serving to remind players of the game's overarching message. Perhaps you'll get a better sense of how it works by watching this gameplay trailer:
Sebastiano Morando, the lead designer at developer Atrax Games, told RPS more about the basis of Sym's world: "The protagonist has a personality at a crossroads. The black part is the side that wants to overcome his problems and resolve things; whereas the white one is the side which wants to hide more inside himself. It comes from Yin and Yang, the two faces of the problem. The protagonist wishes to live both inside of his mind, but also outside of its constraints alongside others."
Morando continued: "Making games which help others is a great thing. I don't know if Sym can help people, but if this was possible it would be great."
Sym is out now on Steam for £5.59 and Desura for the same.