They are Groot: Telltale's Guardians of the Galaxy?
Thanos will remember that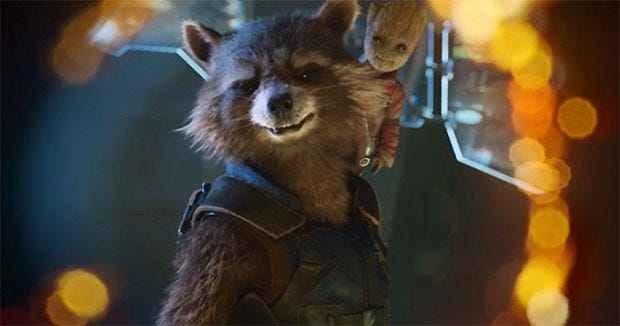 It is the year 2801. A man weeps as he is forced to play Last of the Summer Wine: A Telltale Adventure. It is the last remaining hitherto unadapted license in the world. He sobs as he remembers Supermarket Sweep: A Telltale Adventure and the living hell that was Fifty Shades of Grey: A Telltale Adventure. A small scream looses his lips as he recalls the day his own husband became a Telltale Adventure. He knows it is only a matter of time before he, too, is adapted. If he can just make Last Of The Summer Wine: A Telltale Adventure - Episode 5: Compo Washes His Hat last as long as he can, he can defer his own terrible fate. Maybe three hours, maybe four. Then he, the last human, will become an episodic narrative adventure game.
If only he - and the rest of humanity - had seen this coming, back in those innocent days of 2016, when Guardians Of The Galaxy: A Telltale Adventure was leaked.
The leak came via the recent and ongoing strike action by videogame voice actors, being listed as a project that has not yet reached an agreement. (ComicbookMovie has the details). While it is not absolutely certain that this is a Telltale project, it is attributed to "O'Farrel Enterprises, LLC", who are also listed under The Walking Dead Season 3, similarly affected. The potential smoking gun is that we did already know Telltale were working on a Marvel property. The result of which would seem to be 'Guardians of the Galaxy- The Video Game aka Blue Harvest.'
Additionally, Eurogamer imply they've heard other rumours to similar effect, and suggest we might be in for a reveal at next month's The Doritos Game Awards.
All makes sense, I guess - dysfunctional pseudo-family, fight sequences, faux-hand-drawn style. Could be good - BUT WHAT WILL THEY COME FOR NEXT?