Telltale's Guardians of the Galaxy season finale out today
Don't Stop Believin'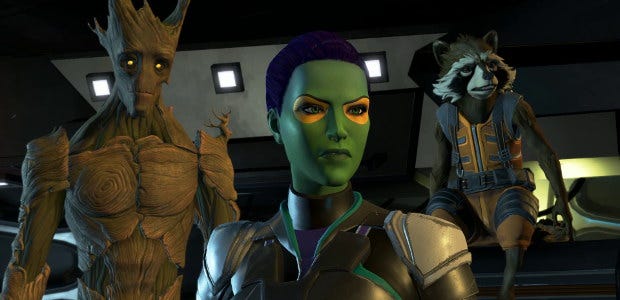 The fifth and final part of Telltale's Guardians of the Galaxy episodic adventure blasts off today, wrapping up the first season. It's got everything: friendship; loss; action; supervillains; banter; big guns; and the sense that everyone and everything you have known and loved may soon be destroyed. Now I'm no Albert Shakespeare but that sounds like the sum total of human existence to me.
What's up in episode five? Telltale explain the setup for Don't Stop Believin':
"In the aftermath of an unbearable sacrifice, the Guardians finally fracture. With her opposition in shambles, Hala renews her campaign of death and devastation, carving a path of indiscriminate destruction en route to Knowhere. If he hopes to avoid catastrophe (and save his own skin), Star-Lord must search his feelings, reunite his team, and mount one final mission to save the galaxy...again."
Only the power of friendship can save us now. It looks a little something like this:
Guardians of the Galaxy's full season costs £19/€23/$25 from Steam and GOG for Windows and Mac. Hopefully Telltale will turn the first episode free at some point as a demo. You can read Alec's episode 1 review to see how it started out. Much as one would expect a Telltale Guardians game to, really - not amazing but kinda fun and funny?