Terraria Dev: "Time to move on"; Fans: "Nooooooo!"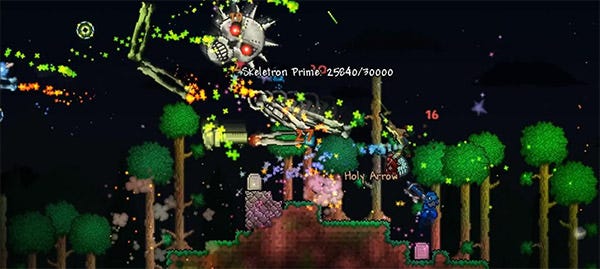 Action RPG platform sandbox thing Terraria has seen its last major update. In a statement to the fans, developer Andrew "Redigit" Spinks thanked them for making the game so popular, but admitted there would be no more extra content coming.
After a lot of internal debate, we have decided that it is time to move on. My wife and I are due to have another boy soon, and I want to spend some time getting to know him. I also want to spend the time recharging and bettering myself as both a programmer and game designer. I have learned a lot from working on Terraria and plan on using what I've learned, building upon it, and moving forward with another, even better project. However, we are still planning at least one more bug fix for Terraria.
So no more additions, no new ores or monsters, or bosses. The developers will focus on bugfixes, while the huge fan-base clamours for a proper mod API.
It does make me wonder about what gamers are entitled to: is it a developer's obligation to continue to work on a game post-launch, and if so how long are they expected to continue? It's all so nebulous, but touches on entitlement and expectations and it's difficult to rationalise. People screaming about the game being abandoned are at least doing it out of frustration about something they love. I never managed to get into Terraria, but looking around the forum I'm amazed at the creations the game allowed. Satvic's builds in particular show an artfulness that makes me hope the fans stick with the game even if the developer is no longer keeping up.
There's no news of what Spinks will be doing next, but fellow Terraria developer Finn Bruce's Starbound is something I'm definitely going to chase up.