The 2TB Samsung 990 Pro is down to £152.99 at Ebuyer in the UK
That's £134 below RRP and a great price for the fastest PCIe 4.0 SSD.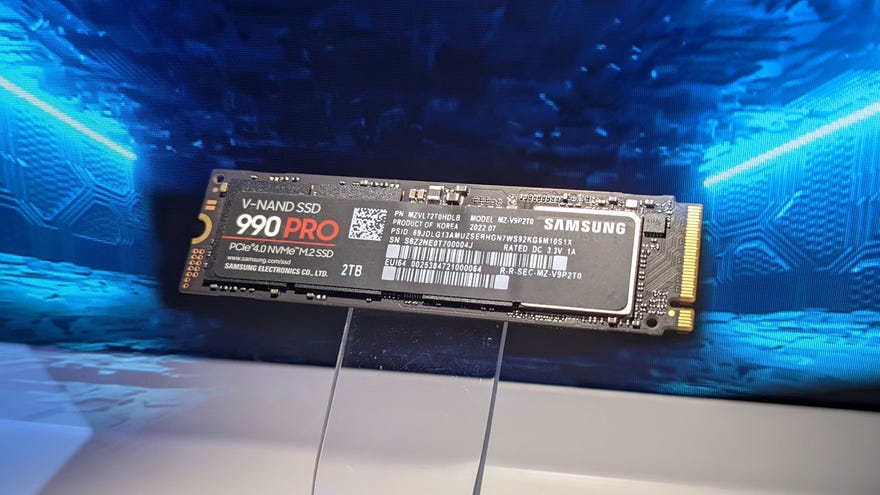 The Samsung 990 Pro is a blazing-fast PCIe 4.0 SSD, offering incredible speeds of up to 7450MB/s reads and 6900MB/s writes - right up against the limits of the PCIe 4.0 standard.
Normally this drive retails for about £200 in its massive 2TB incarnation, but now you can pick up this drive for just £152.99 at Ebuyer in the UK - a great deal on a drive that we've named as the very fastest PCIe 4.0 SSD for shorter loading times.
There's not much to say about the 990 Pro that hasn't already been said. It stands on top of the pile when it comes to the mature PCIe 4.0 standard, offering unmatchable speeds in terms of both specs and real-world performance.
Random performance, where you're loading lots of small files randomly placed on a disk, is measured in thousands of input/output operations per second (IOPS). A good PCIe 3.0 drive might offer around 300 to 600K IOPS. The Samsung 990 Pro delivers a maximum of 1.4M IOPS for reads and an even more impressive 1.55M IOPS for writes, making it more than twice as fast - and head and shoulders beyond even other PCIe 4.0 drives, most of which cap out before or at the 1.0M mark. Only the WD SN850x can really challenge the Samsung drive here, and that dominance translates into excellent real-world performance in our testing too.
In our Shadow of the Tomb Raider game load time test, the 990 Pro managed it in 6.6 seconds - a record time. By comparison, the SN850x took an also rapid 6.7 seconds, while the more modest Crucial P3 Plus did the same in 7.3 seconds. Our previous PCIe 4.0 pick, the WD SN570 SE, required 10.4 seconds for the same job. These aren't massive margins, but they add up when stacked across every load for the life of your machine.
So then, the 990 Pro is an incredible drive and well worth picking up if you feel the need for speed - and while PCIe 5.0 drives remain out of reach for the average consumer, this is as good as it gets.