The Division 2 announced
Divided by two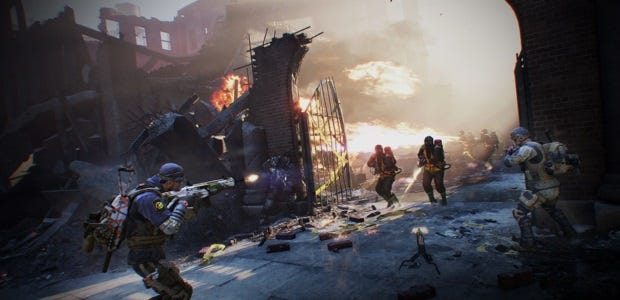 Update: Ubisoft have officially announced development of The Division 2, along with an English version of the press release.
The Division 2 is in development, according to a press released leaked by a German stock-traders site. Thanks to the wonders of Google Translate, we have the first few morsels of info on an upcoming sequel to the shoot-o-RPG.
Details on the game itself are very sparse right now, beyond the news that it's in production. As is now standard form for the mega-conglomeration of studios that is Ubisoft, Massive will be working alongside Ubisoft Annecy, Redstorm, Reflections, Ubisoft Bucharest and Ubisoft Shanghai. The sequel will be running on a new iteration of the Snowdrop engine, the impressive lump of code behind the first, admittedly lovely-looking game.
The original game will also see at least two more updates before officially being put out to pasture, featuring two more global events being put into cycle. Additional story missions will be receiving Legendary difficulty variants and starting in June, players will be able to earn a new set of special 'crest' achievements which will eventually turn into rewards (most likely cosmetic) in the sequel. If the leak is accurate (and there's no reason to doubt it at present), Massive will be showing off the game in full at E3 later this year.
The sequel's announcement is surely good news for fans of the original game, which recently saw some major (and very well-received) content updates. As much as Ubisoft have bulked out the endgame and sidequest potential of the tactical shooty ARPG, the main story still ends in a cliffhanger that has gone unresolved for two years, so it'll be interesting to see how and where they take the story next, and whether - in this politically intense time - their handling of the idea of a government sleeper cell given Judge Dredd-esque emergency powers in order to return law to the streets will be any less ham-fisted.