The Flare Path Goes Great Western
Paddington to Reading reading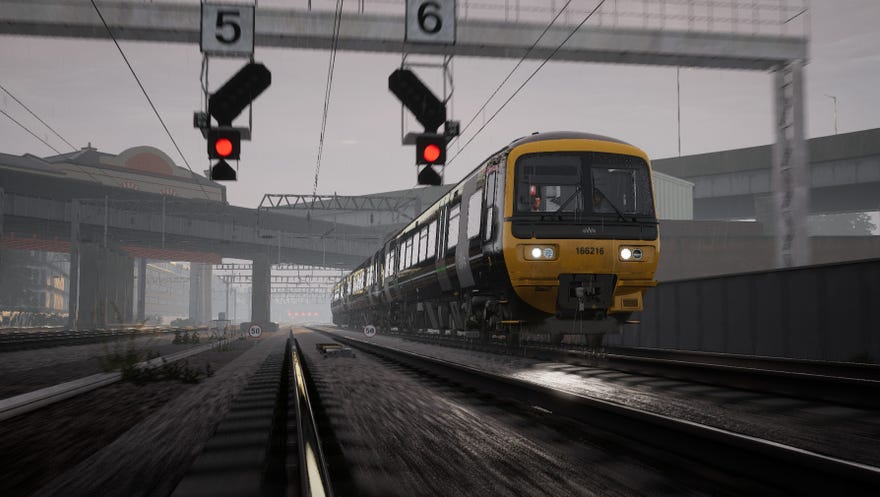 Happily the unfortunate incident in Nevada early last year that led to the winding up of Flare Path Sky Tours Ltd had no effect on the activities of Flare Path Rail Tours Ltd. I may be banned from owning, leasing, or operating passenger-carrying sim aircraft in perpetuity but sim trains are another matter. Today, if you've nothing better to do, you're welcome to join me and my driver, Roman, for a journey along a 36-mile stretch of British main line with an uncommonly rich and tragic history.
The route and the rolling stock for this Thames Valley odyssey have been crafted by Dovetail Games. The stunner in front of you is a painstakingly sculpted but aurally underwhelming three-car Class 166 Turbo Express diesel multiple unit. The transport cathedral we're currently standing in is, of course, Paddington Station, the London terminus of the Great Western main line to Bristol.
I could talk for hours about the history of this elegant Victorian train pavilion but as we're scheduled to depart in exactly... four minutes and thirty three seconds I'll restrict myself to just one Paddington-related story – a story I'm certain some of you won't have heard before.
In 1841 the internet's great-great-great-great-grandfather was born right here in Paddington Station. For the princely sum of one shilling visitors to an office over yonder could send short text messages thirteen miles down the line to West Drayton via the world's first public telegraph system.
By 1845 the telegraph wires had reached Slough, eighteen miles from the capital, a development poisoner, John Tawell, was to rue. On January 1st this blackguard boarded a London-bound train at Slough having just murdered his mistress, Sarah Hart, with prussic acid. A suspicious neighbour followed him to the station and persuaded the station-master to wire a warning to Paddington...
A MURDER HAS GUST BEEN COMMITTED AT SALT HILL AND THE SUSPECTED MURDERER WAS SEEN TO TAKE A FIRST CLASS TICKET TO LONDON BY THE TRAIN WHICH LEFT SLOUGH AT 742 PM HE IS IN THE GARB OF A KWAKER WITH A GREAT COAT ON WHICH REACHES NEARLY DOWN TO HIS FEET HE IS IN THE LAST COMPARTMENT OF THE SECOND CLASS COMPARTMENT
The unimaginative GWR employee on the receiving end struggled a bit with 'KWAKER' (The five-needle Cooke-Wheatstone instrument couldn't do Qs) asking repeatedly for the word to be re-sent, but eventually the penny dropped and the peelers were alerted. The suspect was tailed as he left the station and arrested later at a coffee house near his lodgings. Snared by wires, Tawell died by hemp three months later, his place in history as the first criminal caught with the help of telecom technology assured.
Take your seats, ladies and gentlemen! It's time we were on our way.
That's Royal Oak on our right, the first of sixteen beautifully recreated stations we'll be passing today and my cue to tell you about the GW main line's regal associations.
Queen Victoria, the first monarch to brave an iron road, passed this spot on her first and last rail journeys. On June 13, 1842, reassured by Albert, a relatively experienced railway traveller, Vicky and her entourage were whisked between Slough and Paddington in a train drawn by a locomotive named, somewhat ominously, after one of the five rivers of the Underworld. The GWR took no chances on this landmark run. The roofless broad gauge 2-2-2 was driven by its designer Daniel Gooch with the company's legendary chief engineer, Isambard Kingdom Brunel, beside him on the footplate, and the royal coach was placed in the centre of a six-coach formation to shield it in the event of a crash.
Going by the Queen's journal entry written on the evening after the trip and the fact that V.R. subsequently travelled by rail on many occasions, the experiment was an unqualified success.
"The saloon we travelled in, on the train was very large & beautifully filled up. It took us exactly 30 minutes going to Paddington, & the motion was very slight, & much easier than a carriage, also no dust or great heat, — in fact, it was delightful, & so quick. We were at Buckingham Palace by 20 m. to 1."
Those seconds of crepuscular gloom came courtesy of the Westway, the elevated tarmac alternative to the low-slung GW main line. We're now beetling through Ballardian West London. Lovers of bleak British sci-fi that glance right at this point hoping to see that contentious concrete termite mound, the Trellick Tower, are in for disappointment. Like the Hammersmith & City line Tube trains that should in theory be our companions on this part of the route, the inspiration for High-Rise has been ignored by Dovetail's polygon wranglers.
The steel spans up ahead carry Ladbroke Grove over the railway. Anyone crossing this bridge at 08.08 on October 5th, 1999 would have seen a terrible tragedy unfold on the tracks to the east. Michael Hodder, a driver at the controls of a Networker Turbo DMU just like this one, ran through a red signal. His Bedwyn-bound train collided head-on with an HST approaching Paddington at speed. Thirty-one died and over 400 were injured. Would the accident have happened had the notoriously cluttered signalling at Ladbroke Grove been rearranged prior to Oct 5, or if Hodder, a relatively inexperienced driver, had been properly trained? Probably not according to the subsequent public inquiry.
This is Old Oak Common depot, a watering hole and workshop for Western Region locomotives for over a century. As GWE's staggeringly pretty trains can do cruel things to framerates when gathered in herds, it's probably a good thing the sidings and sheds here always seem to be improbably empty.
The trees on the left? Part of Wormwood Scrubs, a green space that gave its name to one of Britain's most famous felonariums. George Blake, Michael Tippett, Leslie Grantham, Keith Richards, Count Geoffrey Potocki de Montalk... all stewed in their cells listening to the hoots and clanks of the nearby main line.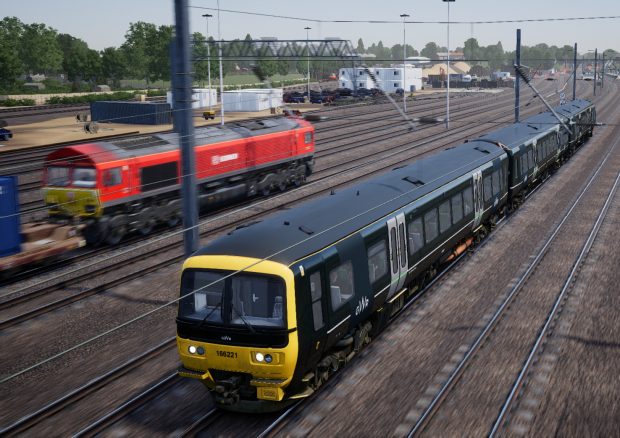 Talking of Keith Richards, we're currently passing very close to the birthplace of British R&B. The Ealing Jazz Club, next to Ealing Broadway station, was where Jagger, Richards and Jones gelled. The Who, Eric Clapton, Rod Stewart, Alexis Korner... they all played there.
Blimey, are we at Southall already? While I don't want this tour to turn into a depressing disaster litany it would be crass to pass the junction with the Brentford branch without mentioning the events of September 19th, 1997. On that day on this spot a combination of an HST with a deactivated Automatic Warning System* and an HST driver keen to pack his bag before arriving at Paddington led to seven people losing their lives and dozens more sustaining life-changing injuries.
*Ironically, all HSTs in GWE have their AWS off by default
Hayes and Harlington. Not a firm of stony-faced solicitors or two hard-bitten London coppers whose unorthodox methods ruffle feathers but get results - a station eleven miles from Paddington that not so long ago had the largest record factory in Britain as a neighbour. EMI's Hillingdon HQ – represented in-sim by that generic office block on our right – housed visionaries as well as vinyl presses. Alan Blumlein, a brilliant electronics engineer whose inventions transformed sound recording, telecommunications, and TV and whose loss in an air crash in 1942 was a terrible blow for the RAF's airborne radar programme, worked at Hayes for much of his all-too-short career.
In 1935, Blumlein, the inventor of modern stereophonic technology, was searching for a subject for the world's first stereo film and found it on his doorstep.
Overpriced beverage, bag of crisps, or piece of fruit anyone? Don't worry about missing West Drayton station; sitting on the south bank of the Grand Union Canal it should be a perfect location for a bit of virtual gongoozling but isn't because Dovetail have failed to provide narrowboats.
Next stop Langley.
Seventy-five years ago it would have been almost impossible to pass this spot during daylight hours without hearing a Merlin engine in full throat. Where rabbits gambol and commuters garden today, Hawker Hurricanes once took shape and taxied. In Spring 1936 Hawker test pilots were asked to look out for a suitable site for a new factory. Parlaunt Park Farm to the east of Langley, Buckinghamshire* was chosen. Up and running by October 1939, the 750,000 sq. ft. factory was at its most active during 1942 and 1943 – roughly eight aircraft rolling off the production line per day. Langley whelped its last Hurricane in the summer of '44 (PZ865 'The Last of the Many' still flies regularly as part of the Battle of Britain Memorial Flight). The factory ended the war producing another Sydney Camm design, the faster, fiercer Tempest, and remained busy until its grass runways and proximity to the increasingly hectic Heathrow Airport sounded its death knell.
*Today, fidgety Langley is in Berkshire
"Come friendly bombs and fall on Slough! It isn't fit for humans now...". The traditional industries hugging the lineside hereabouts survived the excoriations of John Betjeman and the Luftwaffe but are faring less well in the battle against the juggernaut Globalisation. That chimney on the right is part of the Dulux factory, at one time one of Slough's biggest employers. In the next year or two, a century of paint and varnish manufacture there will come to an end. Also approaching retirement is the handsome crenelated Horlicks factory on the other side of town, a structure that surely deserves a bespoke model in GWE rather than the bland brick office block surrogate it gets.
Those periodic bell rings and horn blasts that punctuate every British railway cab ride, real and simulated, are a direct consequence of a collision that occurred at Slough station in 1900. Determined to reduce the risk of future fatal 'SPADs' (Signals Passed at Danger) the GWR introduced the world's first Automatic Warning System on this line in 1906. Energised ramps next to 'distant' signals would cause a siren to sound in passing loco cabs if the signal was at caution. If the driver failed to cancel the alarm, his brakes would automatically apply. It wasn't a foolproof system – history is littered with examples of drivers unthinkingly cancelling AWS alarms – but the fact that the BR device that replaced it forty years later operated in a very similar manner speaks volumes.
That blur was Burnham. Out in the sticks GWE's scenery is adequate rather than awe-inspiring. While Train Sim World represents a significant leap forward in rolling stock representation, stray outside lineside fences, especially in rural areas like this, and the vistas often feel very TS2017.

Like Buckingham Palace and York Minster, the bridge ahead is 'Grade I listed' – a "building of exceptional interest". Designed by Brunel and immortalised by Turner...
...it will carry us over the Thames into Maidenhead, a town described in less than flattering terms by Jerome K. Jerome in the wonderful 'Three Men in a Boat':
"Maidenhead itself is too snobby to be pleasant. It is the haunt of the river swell and his overdressed female companion. It is the town of showy hotels, patronised chiefly by dudes and ballet girls. It is the witch's kitchen from which go forth those demons of the river – steam-launches. The LONDON JOURNAL duke always has his "little place" at Maidenhead; and the heroine of the three-volume novel always dines there when she goes out on the spree with somebody else's husband."
Dovetail's depiction of Maidenhead station is almost perfect. Wander the island platform and, sadly, you won't find a life-size statue of 'Britain's Schindler' seated on one of the benches. In 1938 Nicholas Winton, an unlikely combination of Socialist and stockbroker, arranged the evacuation of 669 Jewish children from Nazi-occupied Czechoslovakia. The outbreak of war prevented his last 'kindertransport' from leaving Prague. Of the 250 children that were to leave on this final train only two survived the concentration camps.
This navvy-dug ravine is Sonning Cutting, one of the most photographed locations on the entire British rail network. If you own a book on the glory days of the GWR chances are it will contain at least one image of a Castle or King storming through this iconic cleft.
Today the bridges overlooking the Cutting are busier than ever; railway photographers are keen to get pictures before the views disappear forever behind a tangle of catenary.
We're slowing for our final stop, Reading, a town built on biscuits*. The huddle of retail warehouses on our left stands on a site once occupied by a vast Huntley & Palmers plant. If you lined up every Custard Cream, Nice, Bourbon etc it produced during the 130 years it was operational the column of crunch would stretch to the Moon and back fifty-eight times. [citation needed].
*not literally [citation needed].
Why Oscar Wilde never mentioned the smell of baking biscuits in his famous gaol ballad is a literary mystery up there with...
What happened to the original manuscript of T. E. Lawrence's Seven Pillars of Wisdom? Lawrence of Arabia lost the briefcase containing the 250,000-word draft of his WWI memoirs while changing trains at Reading Station in December 1919. A national newspaper campaign to track down the "hero's manuscript" was unsuccessful and the hapless wordsmith was forced to rewrite his whole tome from scratch – a task made doubly difficult by his habit of destroying notes once he'd used them.
In a lovelier, more interesting world than this, Lawrence's briefcase would be one of GWE's 75 'collectables'.
Well, here we are. This train/tour terminates here. All that remains for me to do is thank you for being such attentive rhetorical devices passengers, point you in the direction of the foxer, and leg it with Roman before those BTP officers over there realise that this is 166221, the Turbo Express swiped from Paddington about an hour ago.