The Sims 4 getting vampiric mini-expansion this month
Bleh!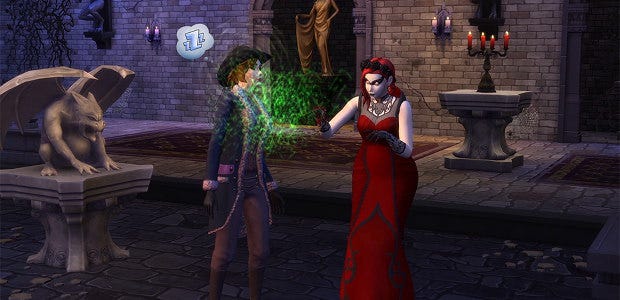 Bela Lugosi may be dead but soon you'll be able to revive him and stalk around undead undead undead in The Sims 4 [official site]. The next DLC 'Game Pack' for EA's live 'em up will introduces vampires who, sure, will have supernatural powers, drink blood, and own ha-ha-hilarious spookhouses but ultimately live the same as everyone else. That's the ennui of the vampiric condition for you. The Sims 4 Vampires is due on January 24th so you've got a bit to dust off your crushed velvet frock coats, gang.
As EA's announcement explains, Vampire characters have two forms with different appearances: one regular and one xXdarkvampireXx for when they're doing their majick tricks. Obviously they come with natty vampiric cosmetic options. That's half the point of being a vampire, y'know. Vampires can also change into different forms, gain powers, convert other folks into vampires, decorate their homes with a load of new vampiric decor like coffins and organs... they're vampires, right?
The pack also introduces a diddy new five-lot neighbourhood, Forgotten Hollow, which looks proper spooOoky.
Here, you can see all this in the announcement trailer:
But: will they yell the Simlish equivalent of "Bleh!" when striking? Because they really shouldn't. Though then you get into difficult territory of which sort of vampires these are. Sure, they do have options to look all Count Orlok-y but given that they're still Sims at heart I suppose ultimately we're talking Twilight. Or Dracula: Dead and Loving It?