The Walking Dead: Season 2 Continues Next Week
Episode 3: In Harm's Way sounds quite merry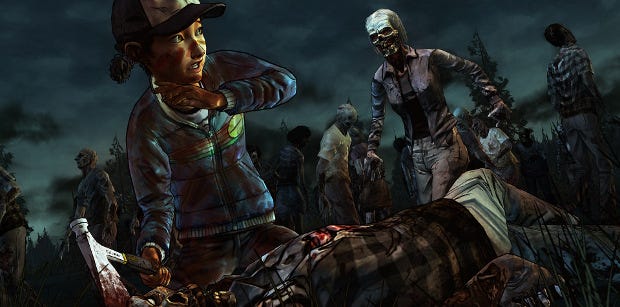 I don't mean to tell Telltale how to do their jobs, given how widely The Walking Dead is admired, but they're missing a trick. Let's look at the episode names for Season 2 so far, Episode 1: All That Remains and Episode 2: A House Divided. Do you see it? They're entirely giving away that something horrible is coming. Where's the surprise? If Season 2 had opened with a title screen reading "Episode 1: Ice Cream Party," just think how unexpected the crushing misery would be. And who could have possibly imagined Episode 2: A Day at the Beach would end like that?
Episode 3: In Harm's Way will arrive on May 13, Telltale announced today. Perhaps this name is a big ruse to conceal that it's really all about Clementine befriending a duck.
It isn't, of course. The screenshots we've seen so far are all full of unpleasantness, and today's new trailer shows dreadful things will happen to people who probably don't deserve them. But that's just what you want, isn't it? You monster. You can't even let virtual people be happy. You certainly don't care that I'm writing this indoors at my desk while it's a glorious spring afternoon outside. I can even hear an ice cream van tinkling merrily down the street. There goes my ice cream party.
I do hope I don't need to say that this trailer contains spoilers: