The WD Black SN770 1TB is now down to £65.58 at Amazon UK
A handy 27% discount on a fast 5150MB/s PCIe 4.0 SSD.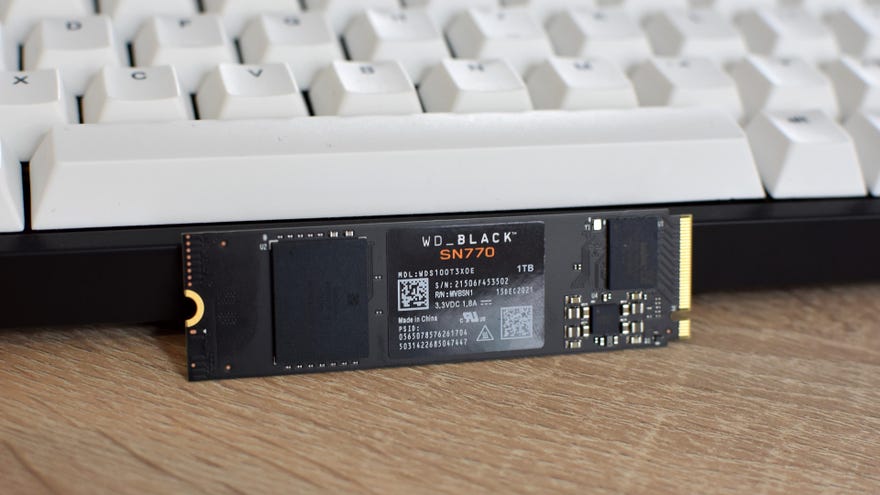 The WD Black SN770 is one of the best value PCIe 4.0 SSDs on the market, offering high speeds - up to 5150MB/s reads and 4900MB/s writes - while also being surprisingly cheap.
It normally costs around £90 for a 1TB unit, but now you can pick one up from Amazon UK for only £65.58, a 27% discount that brings it down to just 6.5p per gigabyte.
As our SN770 review suggests, this is a mid-range option that does well to outperform PCIe 3.0 SSDs while not challenging those at the very upper echelons of the PCIe 4.0 category.
The SSD uses TLC NAND, giving it a longevity and performance advantage over cheaper alternatives that use QLC NAND, although it doesn't come with a DRAM cache to sustain its performance for longer.
Whether this matters to you depends mostly on what you're doing with the drive - for regular OS and gaming use, it's not a problem as you're unlikely to be writing to the drive for such a long time, but for something like video capture you should get a higher-tier PCIe 4.0 SSD alternative like the WD SN850x.
I'm quite confident recommending the SN770 for the vast majority of people though, so if it fits the bill in your mind then do give it a go. You may also find it helpful to refer to our roundup of the best gaming SSDs for alternative picks!
Thanks for joining me, and stay tuned for one more deal to close out today in RPS deals land!