This 1TB portable SSD is down to £56.50 at CCL in the UK
Fast storage, small size, low price.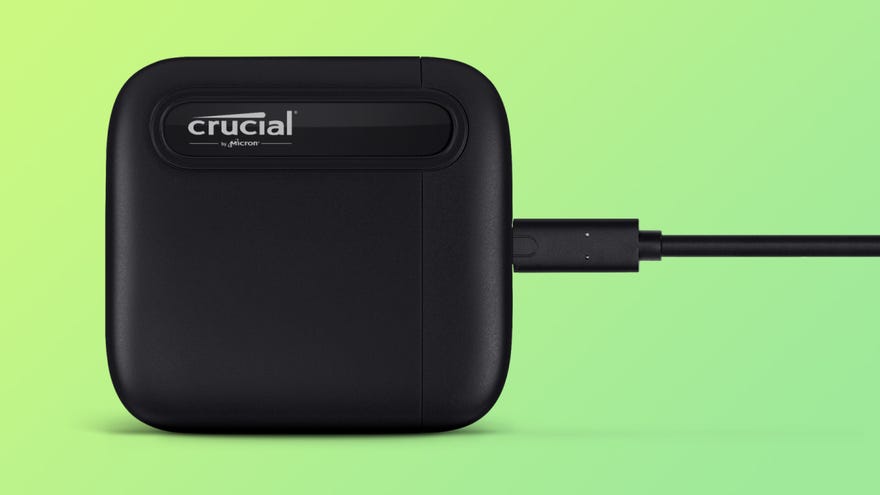 We've continued to see prices fall on solid state storage over the past few months, as manufacturers are looking to sell on excess stock caused by falling demand in commercial sectors. That makes it a great time to be a PC gamer, as you can pick up some great tech for bargain basement prices - including this Crucial X6 portable SSD, which offers 1TB of space for £56.50. That's nearly half the price this drive cost at launch a few years ago and a good £15 below what it was going for in February this year, making it an awesome pickup for the money.
We've covered the Crucial X6 before in its gargantuan 4TB configuration, so I'll quickly run through the pros and cons of this particular model.
First, this is a small, compact SSD whose non-mechanical flash memory makes it resistant to drops, shocks, knocks and magnets. Despite being scarcely bigger than a pack of cards, it has 1TB of fast NVMe-grade SSD storage, with read speeds up to 800MB/s. That makes it faster than the launch model that debuted in 2021, which topped out around 500MB/s - around the speed of slower SATA SSDs. With a 10Gbps USB-C connection, it feels just as responsive as an internal drive, although the USB connection does add a touch of access time latency if you break out the measurement tools.
It's great to see so much portable SSD storage available for just over £50, as these devices are great ways to back up important data, transfer game installation directories between PCs at a LAN party or move downloaded video files between your PC and the TV downstairs. Having one on-hand speeds up my PC testing immensely, but you don't have to be a professional computer nerd to benefit from having one by any means. If you're used to flash drives, which tend to have much slower memory and operate over older USB standards, this could be a revelation.
What do you think of this deal? Let me know in the comments below - your feedback genuinely matters to me and I always appreciate logging onto RPS to find a nice and/or helpful response to one of my articles. Thanks for taking part and we'll see you again next time!