This 2TB PCIe 4.0 NVMe SSD is just £95 at Amazon UK
Integral's M3 Plus is a value champ that's easy to recommend.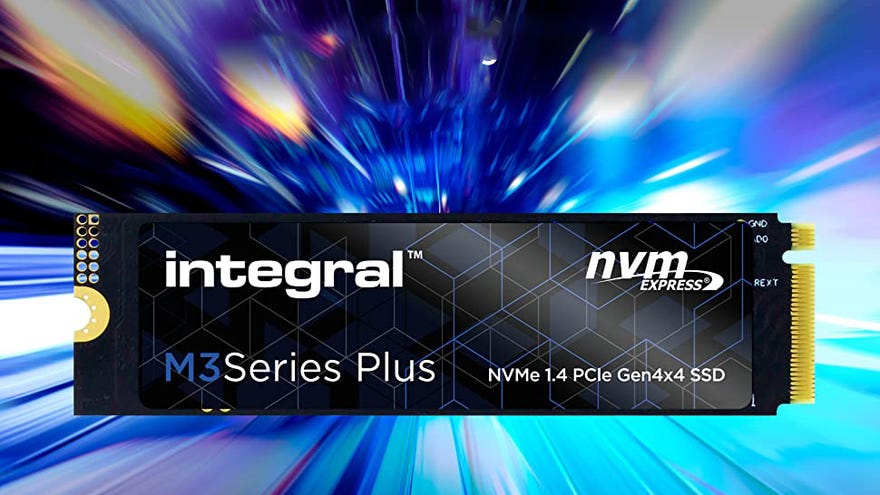 We've covered surprisingly cheap NVMe SSDs on this deals patch before, but today we've hit a new high - or new low, depending on how you look at it. Right now you can pick up an Integral 2TB SSD for just £94.99, down from a regular price of £124, and best of all it's a fast PCIe 4.0 SSD capable of 4850MB/s reads and 4400MB/s writes. Nice!
Surprisingly, this Integral drive - the M3 Series Plus - also uses TLC NAND flash storage, which offers better performance and longevity than QLC NAND but costs more to produce. That shows in the drive's random read and write speeds, which are reasonable for an NVMe drive if not quite as fast as the best gaming SSDs. Those are up to 360K IOPS reads and 520K IOPS writes, putting this drive at around one-quarter the speed of the very fastest drives - but you'll also be paying significantly more for models like the Samsung 990 Pro (£171) or WD SN850x (£167).
One thing I can't find mention of is a DRAM cache, so I'll have to assume that the drive doesn't come with one. If that is the case, the drive won't be quite as performant when it comes to sustained writes, but this is only likely to affect content creation tasks - like recording video to a drive, for instance. For general OS use or game storage, it's not an issue.
And for the money, you are still getting a ton of drive here. 2TB is significantly more comfortable to inhabit than 1TB - after all, it's twice as big! - and the speeds here aren't bad either. For £95, I don't think you can get anything better than this!