Vigilant: THQ Denies 40K MMO Cancellation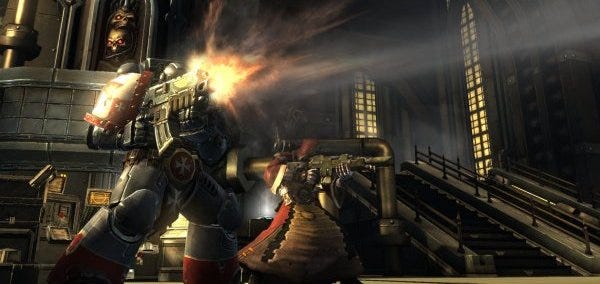 Rumours wildly frothed out of the internet this weekend regarding the financial peril of THQ. This chap, an IGDA fellow, said that Vigil's Warhammer 40k MMO had been cancelled. He went to explain that the cost would be beyond the current wallet of the troubled company, and that it had also returned its Disney licence. GamesIndustry also has anonymous sources claiming that the in-development MMO is for sale. Newschums VG247 have picked up a contradictory statement from THQ Australia, which states: "THQ has not cancelled its 2014 line-up, and has not made any decisions regarding the planned MMO."
Continued below.

These rumours offer no firm evidence of what THQ is up to, of course, but they are based on some troubled times for the big publisher, which has closed a number of studios. They've had a few high-profile flops, too, one of which has led to the indefinite shelving of the Red Faction series, which has been going for a decade. Nevertheless, the company is keen to stress recent successes.
The THQ statement continues: "...we are thrilled with the great performance of Saints Row: The Third, which on a like for like period in North America has tripled in sell-through from Saints Row 2. In addition, WWE '12's worldwide sell-through sales are up almost 40% year-over-year for the same sales period with fewer platforms. According to NPD, for the month of December and the 2011 year, THQ was the #5 publisher overall, #4 third party, with reported sell through growing over 18% in a market that was down almost 6%. And coming up next, we have two great titles for the first half of the year including UFC Undisputed 3 and Darksiders 2."
It does seem that THQ should be doing okay, given how great some of their studios are - Volition and Relic particularly. But the cost of failure in the AAA games world is now higher than ever, and higher still in the MMO world. Perhaps THQ really are looking at what's going on with SWTOR and reconsidering the fate of what we feel is one of the most exciting MMO projects out there.
We've contacted THQ for further comment.