THQ Nordic pick up the Kingdoms Of Amalur rights after five years in limbo
Wooooooooooooooooo!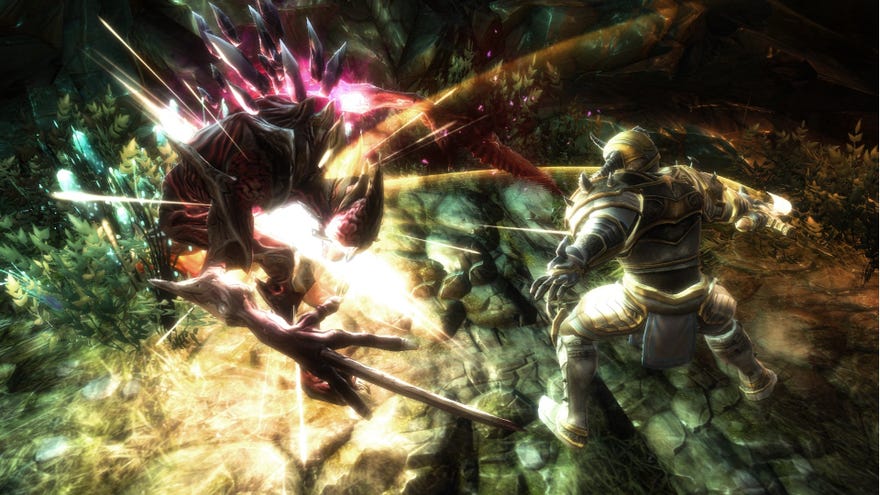 I don't know what I did to deserve this, but one of my long-time gaming wishes has come true! THQ Nordic has bought the much-muddled rights to the completely wonderful Kingdoms Of Amalur from whatever remains of 38 Studios. Could there... could there be another Amalur game?!
The human race can be divided into two categories: Those who loved Kingdoms Of Amalur: Reckoning, and those who are wrong. Which means for all right-minded people the news that "THQ" Nordic have picked up the license is cause for good cheer. Because while there's not been any official indication that anything is in development, Nordic have made a name for themselves picking up wayward licenses and then bringing them back to life. With Darksiders III finally out later this year (!), and the broad assumption that Saints Row is in development now they own Deep Silver too, we can hopefully pop Amalur alongside other acquired license hopefuls like TimeSplitters, Red Faction and - dare I say it - Titan Quest.
Why was this elaborate RPG quite so good? Because alongside the well documented financial woes of 38 Studios, they also managed to create a vast and intricate RPG world that somehow managed to feel like a positive place. Originally intended to be developed into an MMO, this in fact meant they created a single-player game with astonishing world building and storylines, that while dealing with proper issues and threats of doom, managed to be upbeat and bright and even cheerful.
I demanded to know back in 2013 why everyone hadn't played it, why Kingdoms Of Amalur: Reckoning hadn't gone on to be a phenomenal success, after finding such complete enjoyment in this friendly, detailed game, beyond that perhaps it was because it was called the terrible "Kingdoms Of Amalur: Reckoning". And then gruesomely toward the end of that year, the license failed to get picked up in the fire sale of assets that followed 38's colossal collapse. But now, five years later, Nordic have swooped in to add it to their ever-growing pile of intellectual property.
The purchase also includes "Amalur", which they explain is, "based on the abandoned MMORPG project "Copernicus". And that's all we know at this stage. If it follows their usual pattern, they'll be very quiet for a couple of years, and then announce they've had a studio secretly working on it for ages. Oh, I really do hope so.
Oh, and you can still buy the game! For an idiotic £20 unfortunately, but it's worth it. On Steam.