THUMP THUMP THUMP THUMPER
Rhythm violence!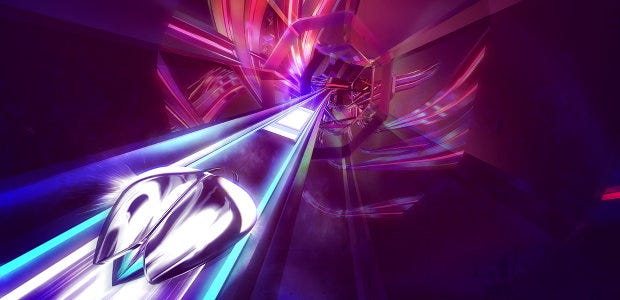 2016 is the year we eagerly sacrifice our ears to Devil Daggers and Thumper [official site]. They have earned them. We will be lucky to lose our hearing so gloriously.
2017 will be the year we welcome their followers, glad to have more aggressively overwhelming games.
2018 will be the year we smile and nod at their followers' imitators.
2019 will be the year we wish everyone would go back to making pixel art puzzle-platformers about the Kübler-Ross model of grief.
But this is still 2016, when Devil Daggers is flipping excellent and Thumper looks ruddy brilliant. Look at (and listen to!) this thumping new trailer:
Pow! Right in the guts.
To explain a little, Thumper's a rhythm game of sorts, controlled by one analogue stick and one button. Your "space beetle" (that's the official term) races along tracks, doing things in time to a beat to build a wonderfully horrible soundtrack as you screech around corners, dodge obstacles, hover, and try not to go blind from all the bright flashes. It appears to be an assault on the senses in a very excellent way, combined with tight and skillful timing. It's like if Devil Daggers were Audiosurf, yeah? No? No.
Thumper is due out some time this year. It's made by Drool, a two-person team of folks who've previously worked at Harmonix on rhythm games including Amplitude, Rock Band, and Dance Central. This is a touch more aggressive, this one.