Tinker, Glazier, Soldier, Spy: Gunpoint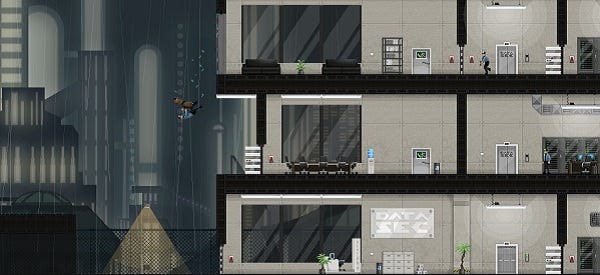 Update: I'd missed a delay announcement. Gunpoint won't be home by Christmas.
Games journalist and professional Francois Truffaut imitator Tom Francis is making the bold leap from critic to creator with Gunpoint, a heist game without procedurally generated cities but with projectile trousers and rewired security systems that cause light switches to activate doors which then clobber people in the face. The video below is the first to show the new visuals in action and it's also an in-depth guide to how the game will play. In the video, Tom also asks whether people would consider parting with cash for the game, to which I respond by drawing your attention to the existence of a mission called Defenestrator.
If I had to do a commentary explaining the game, I'd spend at least two minutes gleefully launching myself through windows and repeatedly asking if people had seen how I launched myself through windows. Sensibly, Tom spends more time explaining the crosslink system which is the real heart of the game. It's a system that instantly makes sense to my brain, even though I imagine there will be comical mishaps aplenty, and I do want to see just how complex the later missions are.
I can't be the only person watching this who already craves a follow-up in a similar style that follows the exaggerated career of Buster Keaton?