Trajectory: Squad Explain Kerbal Space Program
Space Interview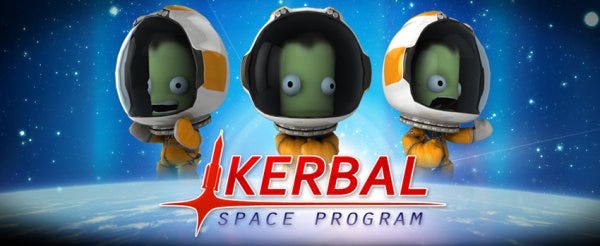 There's something wonderful about Kerbal Space Program, the sandbox game where you try to lob a race of cute aliens into their own space age. It's the kind of thing that only gets made by a very specific type of developer, with a very specific sort of love for what they are making. That developer is called Squad, and we had a few questions for them.

RPS: Who are you guys and what do you do?
Mike: You have before you Felipe (aka HarvesteR), KSP's lead developer, Mike (aka Mu), KSP's game & tools developer and finally Chad (aka C7), KSP's technical artist. We all work for Squad, a game dev studio based in Mexico City.
RPS: Can you explain, for those who have not played it, exactly what Kerbal Space Program is?
Mike: At its heart, Kerbal Space Program is a game about creating your own space program from scratch. You construct spacecraft and launch them off into the cosmos, attempting to further the science and achievements of Kerbalkind. That or explode spectacularly on takeoff.
The game features a complete space flight simulation, where you can seamlessly go from the planet's surface up into orbit, and from there into deep space, all driven by a physics engine that simulates actual orbital mechanics, and in which every part you place on your ship has an effect on how it will fly... or crash. Proper planning and experimentation through trial-and-error are key to succeed, as with an actual space program. Only here, your Kerbals are perfectly ok with being strapped to an untested contraption filled with rocket fuel. It's health and safety gone elsewhere.
You are free to explore this little universe, provided, of course, you can construct a ship that will take you there. The game's scale is about 1:10 to real life so Kerbin, KSP's Earth, has a 620km radius, it's really quite a big place! There are also 15 other planetary bodies in the solar system of varying sizes.
Also, there is a strong community behind the game and the core mechanics and parts can be modified or replaced. New code and parts can be added and there is certainly a lot of great stuff constantly coming out of the community.

RPS: How did you come to be making it?
Mike: Squad was originally a marketing company working on interactive installations and events, like product launches, displays, booths and such, however our true passion was in making games and so we ploughed time and effort into KSP's development. Since starting the project, the company has expanded considerably and has taken on a very international flavour with team members coming from three continents.
Felipe: I started at Squad as a developer, working on those installations for marketing events and such. While the projects themselves were pretty interesting, what I really wanted to do was work on games. When I pitched the idea to Adrian and Ezequiel and they said 'let's do it', it was an incredible opportunity.
Mike: I actually got my job on KSP after finding out about the game on Rock Paper Shotgun last year. Saw the game on RPS and then played the demo a few times. Decided it was definatly my kinda game, headed to the jobs page and sent them an email. Never looked back!
Chad: I got started with KSP as a modder in the community. I worked on a modification pack that added aircraft and spaceplanes to the game. The team at Squad really enjoyed my work and they offered to hire me to develop for them full time. It was an opportunity I couldn't pass up.
RPS: Have you been surprised by the enthusiasm of your community for the game? What do you attribute that to?
Mike: The game has certainly been very successful and has really shown us how much people value the type of experience. Exploring vast worlds in outer space is the current/next frontier for the human race and I think people really connect with that idea. There is a lot of fun to be had in experimenting and constructing wild and wacky spacecraft and attempting to get them to new and exciting places.
Also the ability to make custom mods and use other people's has expanded the game in directions we wouldn't have dreamt of. There is a lot of capability in the engine and even more to come in the future.
Chad: I'm constantly surprised by the amazing things our community comes up with. They're very passionate about their creations, whether they're building ships or making interesting modifications to the stock game. I would attribute that to our efforts to support modding from the ground up. The fantastic modding support is what originally inspired me to create mods for the game.
RPS: What have been the toughest challenges of making a game like this? And what lessons have these taught you that you pass on to other aspiring indies?
Felipe: There were several challenges we faced as KSP's development progressed. At first, the main concern was that we really had no idea what the reaction from the players would be like when we first published the game. Now it seems obvious, but at the time, we didn't know if the orbital mechanics would be too complex and too high an entry barrier into the game... We just didn't know how people would receive the game, and whether the ideas behind the game concept would come across. That was a period where we were really unsure of how things would turn out, and it was a pretty tough time.
Later, after the game was published, we (thankfully) got a response from the players that wasn't just what we hoped it would be, it far exceeded it. Then, the biggest challenge was (and still is) to develop something that lived up to what players expect from the project.
I think if there's one thing new developers need to be ready for, is that your audience can be brutally uhm... honest about your game. If they don't like something, they will make sure you hear it. It's never easy to hear negative feedback about your work, especially in the case of indies, who more often than not pour their hearts and souls into their projects, so I think it's the one thing new devs need to be ready for, because it can get very intense sometimes.
I have to say though, I love our community. I think we are very very lucky to have a community that is so friendly, we actually get to be active on our own forums, help players out, and be amazed at the stuff they come up with. That's a privilege very few dev studios get to enjoy.
RPS: What's the future for KSP? Do you have plans for other games?
Felipe: We have many ideas for the future of KSP. In fact, now that we're finally getting the game to a point where the sandbox aspects of it are reaching a state of completion of sorts, we are able to work on some very fun features, building over the tools we've been creating up until now. Our plans for the next updates aren't quite set yet however, so I can't tell you what's coming next, but what I can say is that there are very fun times ahead.
About other games, definitely. Squad itself is dedicated to becoming a pure games studio in the future. I think all of us have ideas for games we'd like to play, and some of those sound very cool. There isn't much of a schedule yet for other projects after KSP, but we definitely have some plans we're eager to put in motion.
RPS: Thanks for your time.