Vault A Lot of Borderland 2 Trailers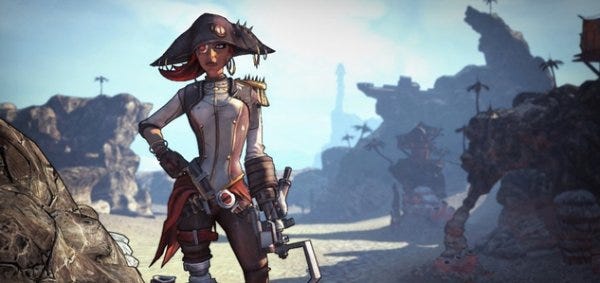 That's what it would sound like if Dracula was a fan of Borderlands 2. Imagine that. He wouldn't be able to say the word 'Vault' without everyone imagining he's actually attempting to say 'what'. But then 'Vault' doesn't make much sense in that context. That is the tragedy of Dracula. I am not tragic in the slightest, so when I do it is actually a pun. What it means is this post has more than one Borderlands 2 trailer. In fact it has two: one showing off the new campaign being released today, and the other finally explaining what the new class, Gaige The Mechromancer, is capable of. She was released last week, a week before her set release date, and I imagine the video people doggedly finished her trailer as a a form of protest.

So, the first chunk of story DLC is the hunt for pirate treasure, Captain Scarlett and her Pirate's Booty. A desert, a pirate queen, and a worm of ridiculous size and strength all stand in your way. It all looks like it fits in with the tone of the Pandora, but not the chilly world, so Oasis is visited via the fast-travel stations. You can go there whenever you want, but the enemies start at level 30. Perfect for DLC. I'm betting the amazing loot is some sort of gun.
Gaige is the newest vault hunter. She has powers that enhances electrical crits, with additional fiery bonuses. Or you could go down a different skill route, adding a perk called Close Enough that means every missed shot has the potential to ricochet back at the target. It can be balanced out with the Anarchy that exponentially increases your damage but decreases your accuracy. If that wasn't enough, she can mechromance up a floating murderbot, Deathtrap. The remixed Claptrap can punch and laser everything in his sight.
Both downloadables are out now. I'm not sure Gaige is worth the £8 asking price, but Captain Scarlett looks like it has a pile of fun for the same money.