Very Decent Proposal: Portal Brings The Love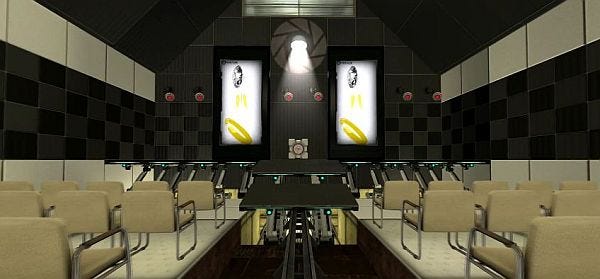 Oh now this is special. Properly special. Extraordinarily talented map creator Douglas "TopHATTwaffle" Hoogland was commissioned by one Gary Hudston to create a very particular series of Portal 2 levels. Working with Rachel "Miss Stabby" van der Meer, he set about creating some truly spectacular Portal 2 puzzles that lead up to, well, something of a proposal.
The Gary Hudston Project, as the task became known, was Gary's means of proposing to his girlfriend Stephanie. Which is pretty damned romantic. It could also have been rather cheesy, were it handled by a less talented team. But Hoogland and van der Meer have created something really spectacular (if Valve aren't offering them jobs soon, I'll be surprised) and you can watch the whole thing here:
Quite how they made the GLaDOS voice I have no idea, unless they somehow commissioned Ellen McLain herself to perform the new script. It's spot on. Edit: Apparently he did! And if that moment with the room converting itself into a church didn't make you give a heartfelt smile, then you need to slap yourself awake.
What a lovely thing to start the day. (Meanwhile, here's a Portal bedroom!) (Via Reddit.)