Warframe's Duviri Paradox update is courting newcomers to the MMO with its standalone story world
No progression-locking here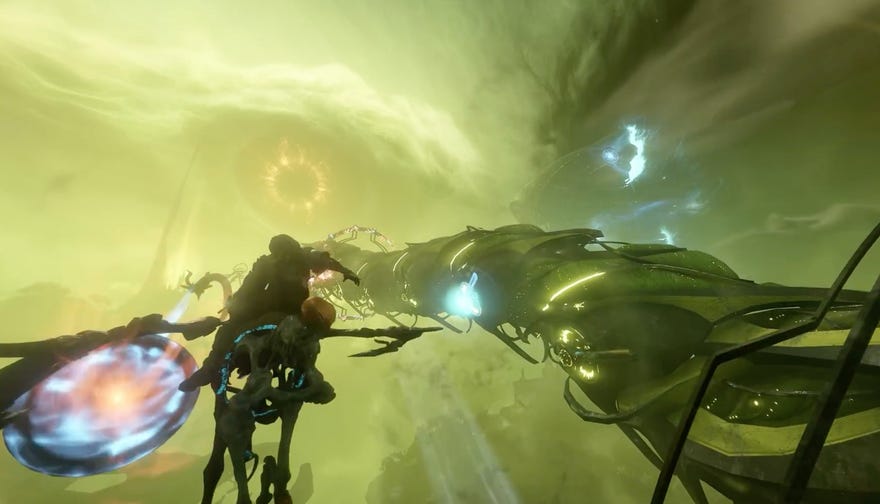 Long-running sci-fi MMO Warframe has just released its biggest update yet, The Duviri Paradox, for free. Jumping into any 10-year-old game can be intimidating, especially an MMO, but developer Digital Extremes say this is the first story-driven update that's not progression-locked based on skill level or experience with the game. In other words, this is a new experience within Warframe that's immediately available to newcomers, while also adding weird cool stuff for old-timers.
The Duviri Paradox adds a fourth open world to the game, this time with a dreamy monochrome palette and a fractured multi-dimensional landscape. There's also a roguelike inspiration to the entire update, as the ruler's moods alter the strokes of colour in the world, as well as the behaviours of enemies and friendly NPCs in each run. It's sort of the childlike belief that rain was God's tears, but sorrow is instead represented by apocalyptically red skies.
"The Duviri Paradox is truly a complete departure from our approach to open world design," says creative director Rebecca Ford. "Everything from its aesthetics and colour, to thematic elements, gameplay mechanics, our approach to storytelling and accessibility." Ford continues to say that "this update is the last piece in the story of the Drifter before we move on to our next multi-year narrative arc."
When a new player enters the game for the first time, they can choose to jump into Duviri or Warframe proper. There's cross-progression between the two, but Duviri is mostly a standalone experience. That's probably for the best since Duviri's lighter fantasy vibes are drastically different from the main game's hard sci-fi decorations. The last time I played Warframe in 2014, it had a lot more running and gunning involved, but this update upgrades melee combat, letting you pound baddies in style.
I'm also pleased to see mounts have learned to fly in the intervening years, and the trailer's boss fight tease has me seriously tempted to return, because who doesn't love scaling massive beasts and grappling hooks?
Warframe's still on our list of the best free-to-play games on PC, and The Duviri Paradox seems to back up that praise. You can download the MMO for free on Steam or on Digital Extremes' official website.