Warhammer games and books are going cheap in Fanatical's latest flash sale
A whole lot of reading for £18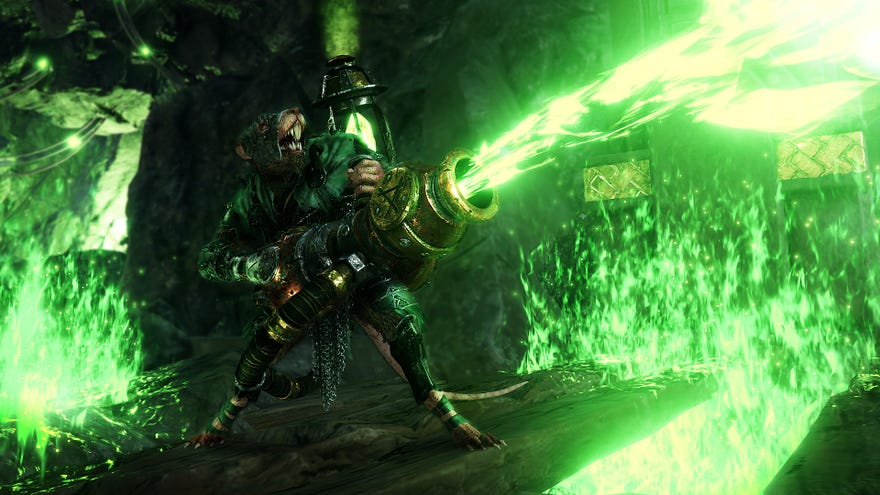 If you just can't get enough Warhammer, then boy do the folks at Fanatical have a good deal for you. As part of their latest Red Hot Sale, they've not only got a bunch of Warhammer games on sale, including 75% off Vermintide 2, but they've also put together a new eBook bundle from Black Library, letting you grab six Warhammer books for just £1. Alternatively, you can buy 26 of them for £18 instead of their usual price of *checks notes* £165, which, yes, I think officially qualifies as "a good deal".
Let's start with the games, the main highlight being that aforementioned 75% off Vermintide 2 deal, which is one of the best co-op games you can play today. Yes, that's the same discount you'll currently find over on Steam's Summer Sale, but you can also get the Collector's Edition for 75% off at Fanatical for just a couple of quid more, which gets you extra goodies including the soundtrack, a digital map, some themed skins, an exclusive "heroic deed", decorations for your keep and more.
Fanatical also have shaved 60% off Warhammer 40,000: Mechanicus as well, but you'll find it's 65% off over on Steam, so you're better off buying that over there if you want to get the lowest possible price for one of the best strategy games you can play today.
If you prefer to read about Warhammer lore than to live it in-game, though, then Fanatical's Warhammer Fiction Bundle is also worth a look. It's split into three tiers, with the first tier getting you six books for £1 (or $1 if you're in the US). If you opt for the second tier, then you'll get 14 books for £10 / $10, while the third tier gets you 26 of them for £18 / $18. That's a lot of fiction to get through, but much better than shelling out £165 for all of them if you bought them at their normal price.
Oh, and if you spend £10 / $10 on literally anything in Fanatical's Red Hot Sale right now, you'll also get a free copy of giant-pummelling RPG Extinction, too – not too shabby when it sells for £24 normally.
If Warhammer has no appeal to your whatsoever, then there are some other decent offers in the sale. How does 48% off Bloodstained: Ritual Of The Night or 66% off the complete second season of Life Is Strange 2 sound? Or maybe 15% off Persona 4 Golden instead? There's also 40% off Control, and given the amount of use I've got out of Jackbox games over Zoom during lockdown, it would be rude not to mention that you can also get 40% off Jackbox Party Pack 5 right now, too.
You can browse the full sale here if you haven't already loaded up on Steam Summer Sale discounts, although most deals are either the same or slightly worse - save the ones we've picked out above, of course. If you spot any other good bargains, be sure to shout about them in the comments.