Warhammer: Vermintide's Survival Mode Due In February
Only one map?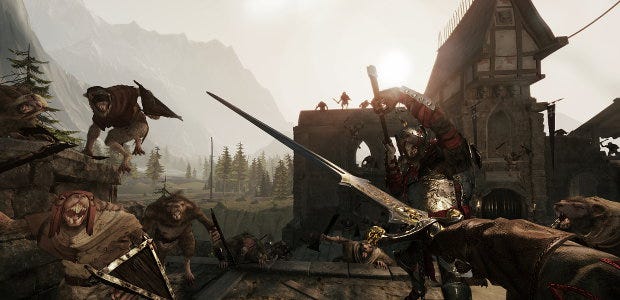 Like Left 4 Dead, which so clearly inspired it, Warhammer: End Times – Vermintide [official site] is getting a cooperative wave survival mode in a free update. You know, a 'be swarmed by hordes of increasingly tough and numerous monsters' sort of a mode. Developers Fatshark mentioned plans for a survival mode last year, and now have more to say about when it'll launch, what it'll offer, and what will cost money.
So! 'Last Stand' mode is due to launch at the end of February, and will come with one level set within the town of Ubersreik. Yes, one level.
Fatshark are working on a second map set in the countryside, but this will cost cash money - though only the host of a game will need to own the DLC, with party members playing for free. It's named Schluesselschloss, and that's enough of a mouthful that Fatshark are running a small competition to pick a nickname, offering the DLC as a prize. No word yet on how much Schluesselschloss will cost.
Now that Vermintide has been out for a while, how are y'all finding it? What would keep you playing, or bring you back if you've stopped? If you haven't played it at all but are curious, hey, it's got 20% off on Steam right now.