Watch a full match of Artifact
Dota but flatter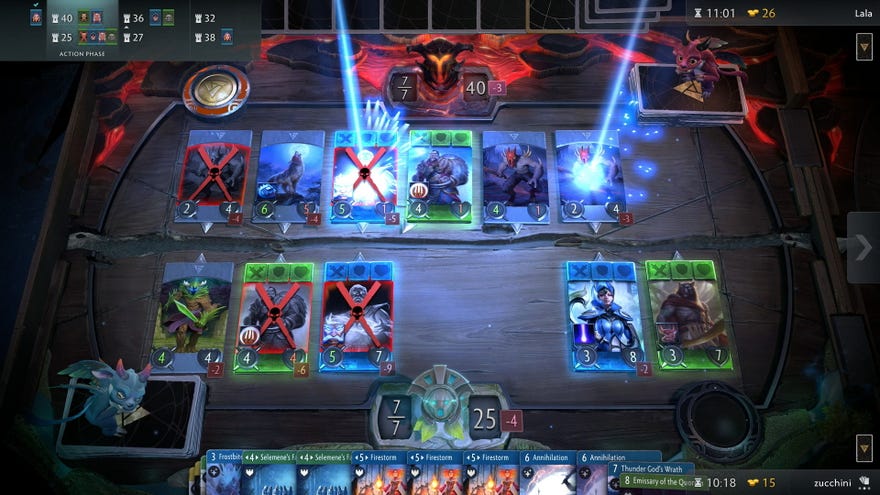 There's a lot going on in Artifact. I'd already read enough to know that, but apparently I needed to see a game play out before the extent of the complexity sank in. Now I can't wait to start laying cards down on three separate lanes, working towards two different victory conditions, parsing each card's stats and tooling up heroes with equippable items.
Artifact is Valve's upcoming card game adaptation of Dota 2, made with Magic: The Gathering creator Richard Garfield. The public got play it for the first time over the weekend at PAX West, where the victor of a mini-tournament earned the chance to play a veteran in a casted match on a fancy stage. Here's the first match from that, where the commentators do their very best to explain what on earth is going on.
So many symbols. So many numbers. I do like the touches that provide some clarity amidst the clutter, like the big red X that appears on a played card that's about to take lethal damage. I like those little drakes even more though.
It's going to be interesting to see whether knowledge of Dota will usefully carry over into this. There are basic concepts that seem immediately familiar, like the difference between hero cards that are more useful early on and those that build up their strength over time. The similarities don't stop there though, with individual heroes possessing analogous abilities to their MOBA counterparts - like Zeus, who has a passive that does a little damage every time another card gets played.
The video appeared on ArtifactTV, a YouTube channel that also has an interview with Richard Garfield. He talks about his desire to combine the depth of physical card games with the freedom of a digital environment: "When I talked to Valve, I was like 'I want to have it so there's no upper bound to how many creatures, you can have as many cards in your deck as you like, you can have as many cards in your hand as you like." He also mentions using randomness effectively, and how he's drawn on Dota's lore to come up with many of Artifact's most exciting mechanics. Promising stuff!
For more Arti facts, have a gander at Austin Wood's hands-on preview, his more reflective in-depth preview, and his delve into how Artifact connects to Dota's story.
Artifact will be available on November 28th on Steam, though not for free. You'll have to pony up $20 to get access to the game, as well as two starter decks and ten booster packs.