Watch Dogs 2 getting a 4-player party mode for July 4th
With seven new co-op activities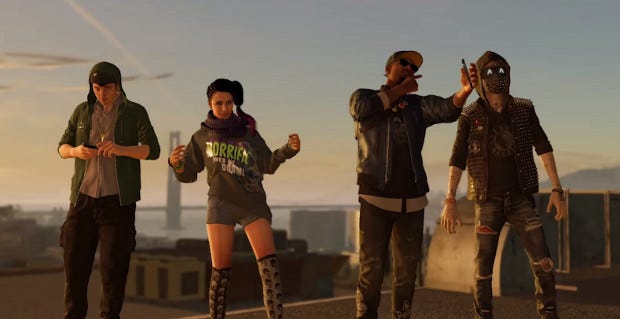 You can't properly celebrate July 4th, the infamous date when Americans discovered fireworks and those really patriotic hats, on your own, which is why Ubisoft is putting out a free Watch Dogs 2 [official site] multiplayer update. On Tuesday, you'll be able to jump in-game and fool around in a slew of 4-player party mode activities. Take a gander at the trailer below.
From Tuesday, the new mode will be available from the multiplayer app found in your in-game smartphone. Between two to four players can join in a private or party game, free roam around San Francisco or muck around in one of the seven new activities. They're listed below.
4-player Party: Bounty
4-player Party: Invasion
4-player Party: PvP Loot Truck
4-player Party: Races
4-player Party: Showd0wn
4-player Party: Robot Boss Fight
4-player Party: DedSec – Virus
Despite having a grand old time when I previewed Watch Dogs 2 last year, it's one of the many open-world romps that I've simply not had time to play. Adam gave it the review treatment, and found it to be a fun, but far too safe, crime caper.
In exploring the possibilities of a GTA-like that didn't encourage violence at every turn, Watch Dogs 2 does more to highlight the limitations of the sub-genre than even the weakest entry in Rockstar's series. For all of its creative solutions and ideals, Watch Dogs 2 can't help but see California as an open carry state, and while I've enjoyed portions of it enormously, it doesn't go far enough in stamping its own identity on what is, eventually, another city of crime, cars and firearms.