Waving A Flag For Turn-Based Combat: The Banner Saga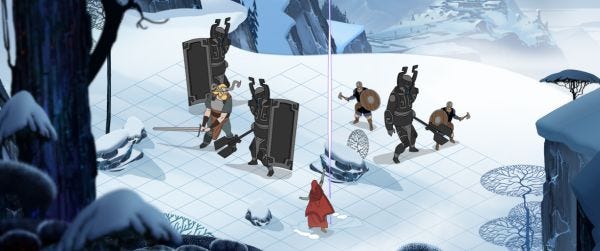 The ex-BioWare bods, Stoic, with their offices in a goat shed have released a trailer for the intriguing The Banner Saga. Revealing the traditional animation style, as well as the ye-olde-school grid-based turn-based combat, along with RPG-like dialogue options, it gives you an idea of the tone being aimed at, if not how it will feel to play. We've also got some rather lovely screenshots that we'll even let you look at. If you're good.
According to the accompanying info, "Players take control of a large cast of dynamic characters as they make their attempt to survive what could be the end of everything." It seems it's a battle to destroy enemies from the past, as the time goes a bit screwy while the world falls apart. Says Stoic's creative director, Alex Thomas,
"Our first priority has always been to create a compelling story and gameplay that complements this. We want players to really care about what happens to the people they meet, and have no idea what's going to happen next."
Take a look:
They're aiming to release a free multiplayer version of the game via the usual digital suspects this Summer, with the single-player campaign coming "soon after". That solo version will apparently offer greater focus on the story and roleplaying, while still featuring the turn-based combat. And it looks like this: