WD's Black SN770 PCIe 4.0 NVMe SSD is down to £43.99 for a 1TB size
A historic low price for a blazing-fast PCIe 4.0 NVMe SSD.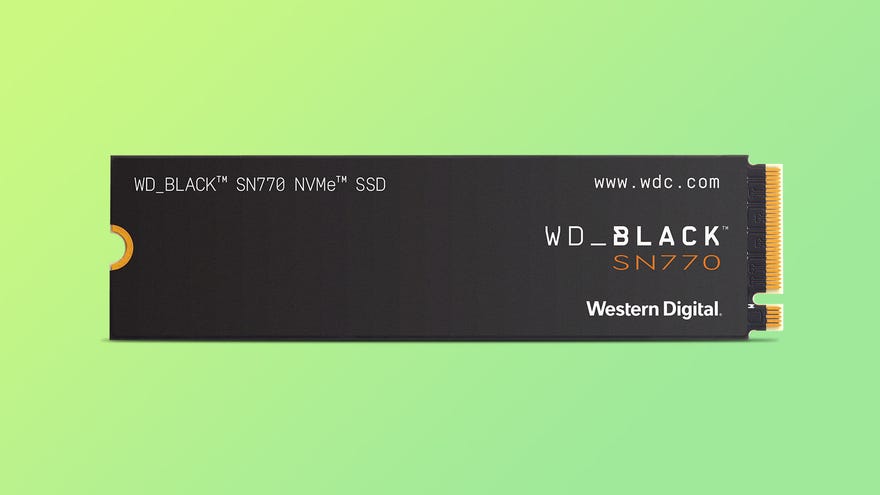 WD's SN770 SSD is one of the very best value options on the market, combining a PCIe 4.0 interface, sequential read speeds up to 5150MB/s and an aggressive pricing strategy that makes it extremely affordable to add to your PC or PS5. Today this drive has dropped to a new low on Amazon UK, where a 1TB model will cost you £43.99 and the 2TB size is just £99.98. Either way, you're getting a great value SSD that performs impressively for gaming.
The Rock Paper Shotgun SN770 review is sensibly required reading for anyone considering this drive, but I'll post an extract here to give you a flavour of this TLC DRAM-less drive's real-world performance:
The Black SN770 can be blazingly fast in the right conditions, including when loading games. Shadow of the Tomb Raider's Cozumel mission loaded from the Black SN770 in a scant 9.39 seconds, a full second faster than the Black SN750 SE and even a couple of blinks faster than the Black SN850. It also posted an excellent write speed result, 3352MB/s, in CrystalDiskMark's 8 queue/8 thread random benchmark. That's faster than both of its WD stablemates as well as the Samsung 980 Pro, another higher-end PCIe 4.0 SSD. Its 236.6MB/s result in the AS SSD 4K write test is also one of the highest I've got on record.
That review ends by bemoaning the pricing of the drive - can you believe that this SSD used to cost £144 for a 1TB model, and now it's £100 below RRP?! Given this steep reduction, the SN770 is an obviously excellent choice, and I'd encourage you to pick one up if you're in the market for more gaming storage.
In the meantime, I'll be petitioning James to add the SN770 to the big list of recommended RPS gaming SSDs - after all, with the significantly slower SN570 ranked first in that article costing £39.95, I think it's time to give the SN770 its due.