What Legacy? - Nosgoth's Beta Will Soon Be Upon Us
No longer the sole reaver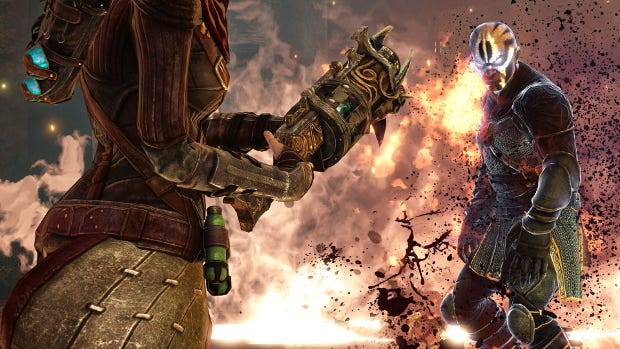 People have been clamoring for a Legacy of Kain continuation for years now, but I don't think Nosgoth is exactly what they had in mind. Instead of a story-driven adventurequest, it's a free-to-play shootything set in some disparate portion of the game's world. Its fusion of stake-slinging ranged combat and fang-sinking melee could be fantastic, but Square Enix has unintentionally saddled this one with some serious baggage. Will it make everyone happy nonetheless? A beta's right around the corner, so you'll be able to gauge the game's chances soon. For now, though, an alpha trailer's below.
Nosgoth is many things, but the game Nosgoth is largely these ones:
"In Nosgoth, players take part in savage, team-based PvP combat as Humans and Vampires fight over the fate of a war-ravaged land -- relying on an arsenal of ranged weaponry and lethal devices as Humans, or visceral melee attacks and inhuman abilities as Vampires."

"Players will experience what it is like to be on both sides of the Human-Vampire war in Nosgoth. Choosing from a range of unique classes within each faction, experience is gained during battle in order to customise their look, skill set and equipment."
You can sign-up for the upcoming closed beta right here.
The game certainly looks action-packed, with only a hint of the series' notoriously moody atmosphere skulking around in the background. The pouncy, punchy vampires have my attention, but I do wonder how much longevity there'll be in all of this. Asymmetric class clashes are all well and good, but Nosgoth's modes and progression will need to be exceptionally fleshed out if Square Enix wants to avoid a fickle free-to-play crowd migrating back to World of Tanks or what have you.
And while Square Enix doesn't have much F2P experience on PC, it hasn't exactly set the most promising precedent on mobile platforms. Granted, we're talking very different ballgames, but still.
What do you think of Nosgoth? Are you even going to give it the time of day/night, or are you too turned off by a series that's obviously stayed quite far from its roots?