What's In What's In The Box?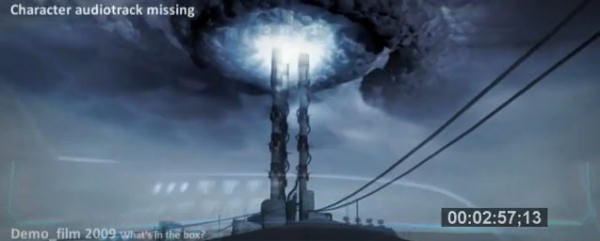 So what's this, then? RPS readers: ASSEMBLE! We must solve and reveal. A video, below, featuring some remarkably impressive special effects, seeming to be part of the Half-Life universe. Not only does it feature some really neatly woven background mattes on regular film, but there's a sense of scale that seems like it should be beyond a couple of guys mucking around on their weekends. Who has the capacity to take over a street, leaving cars strewn all over? And buses. Make sure to watch it in HQ.
As excellent tipper Chris Deter points out, there's Half-life 2 sound effects, and a news ticker along the bottom that at one point reads, "Millions feared dead ... no news from disaster area ... Largest single collapse in history since Black Mesa".
Also supremely impressive are the displays on the "Computer Brain Interface". As the character holds up cellphones, data about them pops up and scrolls, in a way that makes me want a Computer Brain Interface right away. Oh, and that it's one continuous shot Oops, wrong about that. But still.
However, this isn't Valve's style at all. Live-action isn't something they've used, and it seems to have been shot in the Netherlands. I might be wrong about that - smart readers, can you identify the road signs/license plates? But the level of detail is astonishing. Note the circling birds at the end, who fly away at the sound of the explosion. Or the video screens inside the bus, glimpsed for about half a second. Creator Timacious shows prowess for special effects in the other videos he has on his YouTube channel. Whatever this video is - and my guess would be simply a remarkable fan project - it's incredible, and deserves attention.