What's This Now? Terraria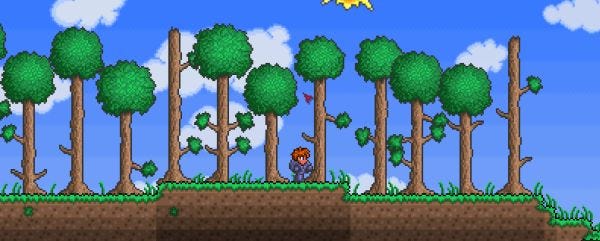 Britain is in the middle of what can only be described as HOLIDAY MADNESS. With Good Friday and Easter Monday as official days off last weekend, and the silly wedding and May Day off next weekend, the notion of actually doing any work is mystifying. But in the middle of our protracted time spent lounging around in hammocks on yachts, there was something of a Twitter-based fuss about another block-centric game: Terraria.
A seemingly secretive development team/person (i.e. I can't figure out who they are) are creating a 2D side-scrolling game in which you can craft, explore, build and have some interesting influence over the landscape, and potentially in a multiplayer world. I imagine this one's going to go huge. There's a video of this below.
I find it difficult to have much time for any studio or developer who don't name themselves on their website, to be honest. But the game certainly looks interesting. They, whoever they are, describe it thusly:
"Dig, fight, explore, build! Nothing is impossible in this action-packed adventure game. The world is your canvas and the ground itself is your paint. Terraria is coming soon!

Grab your tools and go! You can do many things in Terraria: make weapons and fight off a variety of enemies in numerous biomes, dig deep underground to find accessories, money, and other useful things, gather wood, stone, ores, and other resources to create everything you need to make the world your own and defend it. Build a house, a fort, even a castle, and people will move in to live there and perhaps even sell you different wares to assist you on your journey. But beware, there are even more challenges awaiting you... Are you up to the task?"
Here's a bunch of in-game content.
And here's a Let's Play of the game, in which the monickered developer explains some details:
You can see a lot more videos on YouTube user "demilogic"'s channel.