Human Fall Flat Bringing Its Silly Physics Fun To July
Explore-o-puzzle-a-platformer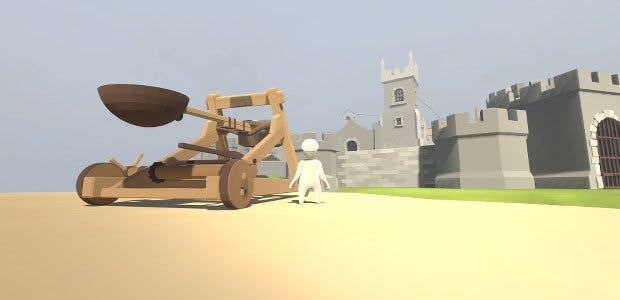 "The thinking man's Gang Beasts" is the kind of awful thing I'd call Human Fall Flat [official site] if I wrote for a '90 games magazine. It's a physics-y puzzle-o-explore-a-platformer which, well, does seem to be awfully fond of Boneloaf's physics-y brawler, from its soft looks to its grabby hands. Still! Sending a doughman swinging, flinging, pushing, and smashing around any way the physics engine allows does sound fun. And today publishers Curve Digital announced that Human Fall Flat will hit on July 22nd.
Developers No Brakes Games released a prototype earlier this year but now it's coming to Steam with "significantly more content" and support for two-player local co-op.
I call Human Fall Flat a puzzle-o-explore-a-platformer (actual recognised genre - look it up in the game dictionary) but really it's a dicking-about game, isn't it? You can make your silly little doughperson do all sorts of silly things as you explore the game's little dreamworlds, which can be entertainment enough in itself. Can you not create your own fun? Oh, and you can create your own doughperson by snapping your own face (or other body part, I suppose) with a webcam.
The trailer announcing this release date does not good a job of elucidating potential fun. Your favourite shrieking adult can help you with that. Rather than engage in favouritism, I'll dunk the trailer here anyway and say that if you, like me, have turned off YouTube annotations because they're mostly used for awfulness, you'll want to re-enable them briefly here for interactive entertainment unless you fancy staring confused for ages wondering how long they'll drag out a joke about making decisions: