Co-op D&D: Sword Coast Legends Arriving In September
Fighting! Looting! Questing!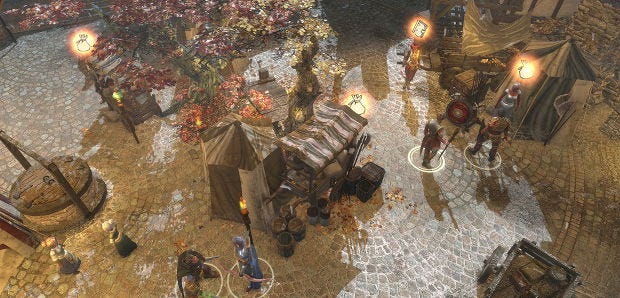 Sword Coast Legends [official site] isn't a new Baldur's Gate game, but it is a top-down action-RPG with real-time combat and tactical pausing in the same D&D setting those games explored. If you saw it on the train, you might be startled mistaking it for that kid in your year at school who died then realise no, that's not their chin - and they didn't have online co-op.
Moving on: Sword Coast Legends is due September 8th on Windows, Mac, and Linux, co-developers Digital Extremes (them lot behind Warframe) and n-Space announced today. They've got a new trailer to show off too.
There are quests to complete and skeletons to smash and wizards to zap and treasure to loot and... it's your usual fantasy D&D thing. On top of a singleplayer campaign, it'll support online co-op and a curious multiplayer mode where one player can take over as a dungeon master placing and controlling monsters and traps for other players to fight through. You want to give 'em a fun time, don't you?
Sword Coast Legends will cost $39.99 (£26) when it arrives.
Technically this is the E3 trailer, so you're not strictly allowed to look at it until next Tuesday. No peeking. Not even a little bit. If you want gameplay, previous trailers have shown off the singleplayer campaign and the multiplayer dungeonmastering thing.