The Silver Case Remake Is Out In October
On the case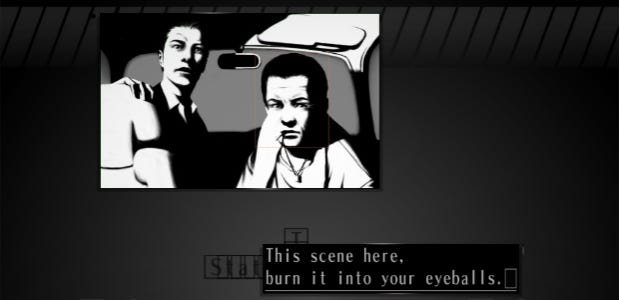 See those two fellows up there in that picture? Take their advice. Burn this into your eyeballs. Grasshopper Manufacture's remake of The Silver Case [official site] is out on PC on October 7, the game's 17th birthday.
The Silver Case is a text-based murder mystery adventure game, and it also happens to be Suda51's first project with Grasshopper Manufacture. The Silver Case tells the story of a serial killer and a spate of murders most foul. Grasshopper Manufacture has taken a much different approach to creating games since The Silver Case debuted in 1999. Nowadays the studio's claim to fame is its more bizarre-o titles like No More Heroes and Lollipop Chainsaw.
This is the first time The Silver Case will be released in English, so that's something special. When the game was initially released all the way back in the '90s the game's text-heavy-ness scared away all of the localization people and any suggestion of a Western release was sealed away in the Grasshopper Manufacture vault until now, over a decade and a half later.
The Silver Case will be available on Steam, GOG, the Humble Store, and Playism for $19.99. A demo is already out.