Glad Rags And Pack Rats: Witcher 3 Patch 1.07 Out
Put a coat on, love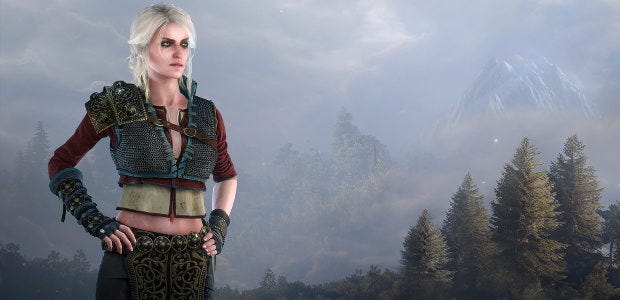 Things have been quiet on the witching front these past few weeks, the trickle of free DLC for The Witcher 3 [official site] paused while developers CD Projekt RED worked on a big old patch. Over the weekend, they and released what they've been up to.
Patch 1.07 has brought a stash to store items in, a new movement option, performance improvements, inventory changes, and, yes, fixes for naughty horses. Sunday also brought the fourteenth free DLC, an alternative outfit for Ciri that's a touch more sensible for a monster-hunter pursued by ice dogs - though only a touch.
Patch 1.07's changelog is a sizeable beast. Do be warned that a few spoilers are hinted at with quest and names. I'll dance lightly across the big points.
The patch has added a stash, with locations across the world to store things in. A Witcher carries everything they need with them, but I suppose a large enough proportion of players aren't good at roleplaying. Take that! If you're still clinging to collections, sure, whatever, store them away. You don't need them though, so what's the point? What's going on in your life? Why do you need these trinkets so badly? I'm worried about you.
Geralt can cram more than ever into his pockets too, as crafting and alchemy components are now weightless. His stuff's easier to sort too, and books get a separate inventory tab and are greyed-out when read.
A number of quests bugs are fixed now, though I notice a few I've had trouble with aren't fixed yet.
On the performance front, they've made a lot of little fixes, and bigger ones like improving streaming. "Players should experience fewer blurred textures, NPC spawn times should be markedly reduced, and there should be an overall improvement in the speed with which game assets are loaded," RED say. They've also added a new HairWorks setting which decreases the quality a little to boost performance, and might make it vaguely worth turning on.
The patch notes have plenty more, so do go read. Download it however you've downloaded past patches, though be aware this is a biggun. Ciri's new outfit is likewise available the usual ways you download the game's free DLC bits. We've got another two of those still to come.