Wolfenstein: Youngblood release date, trailer, Buddy Pass, story, setting
A summer vacation in Paris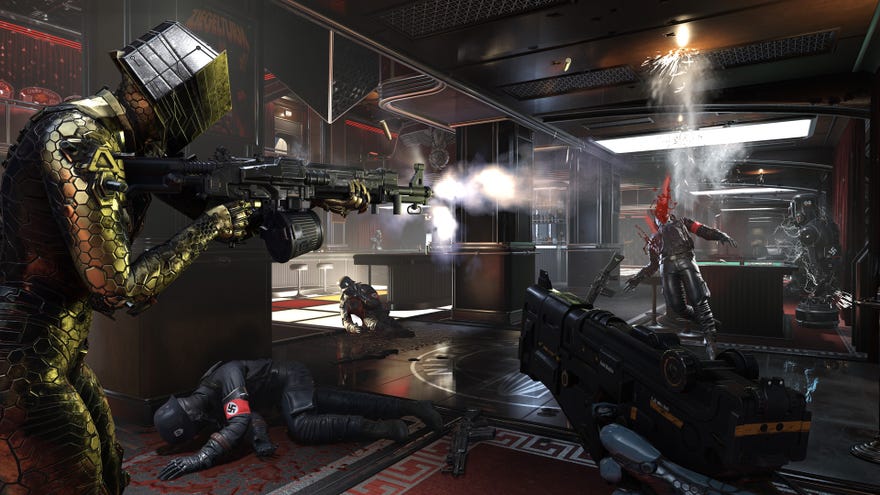 Wolfenstein: Youngblood looks set to provide a same-but-different experience to that of MachineGames' previous (and excellent) Wolfenstein titles, placing players in the shoes not of beloved B.J. Blazkowicz but of his twin daughters, Jess and Soph. Our Wolfenstein: Youngblood guide will walk you through everything we know about the game so far, from release date and pre-order details to info on story, setting, combat, and anything else you might want to know.
Wolfenstein: Youngblood release date
Wolfenstein: Youngblood will release to PC, PS4, Xbox One, and Nintendo Switch on July 26th 2019, as confirmed by publisher Bethesda Softworks on March 27th. So we've less than two months to wait before we meet the so-called Terror Twins in person.
Wolfenstein: Youngblood Buddy Pass & pre-order details
That's not all Bethesda unveiled back in March about their latest twisted Wolfenstein spin-off. With the focus of this game being very much on the co-op multiplayer aspect (with each player controlling a different Blazkowicz twin), Bethesda have created an all-new "Buddy Pass", which is given to buyers of the Wolfenstein: Youngblood Deluxe Edition.
After purchase, the Buddy Pass can then be sent to a friend, allowing them to play alongside you for free; though they have to be playing at the same time as the original buyer, which means if the friend wants to play it through by themselves they'll have to buy their own copy of Wolfenstein: Youngblood. On the plus side, however, the Buddy Pass can be shared multiple times, allowing multiple friends to play alongside you - but of course only one can play with the owner at a time.
As for your pre-order options: if you pre-order the standard edition of Wolfenstein: Youngblood, you'll be gifted with the Legacy Pack containing two suit skins (New Collossus Jacket and U.S. Army), along with the Old Blood Pipe, Old Blood Knife, and WW2 weapon skin set. If you pre-order the Deluxe Edition, not only will you receive the aforementioned Buddy Pass and the Legacy Pack, but you'll also enjoy the Cyborg Skin Pack, containing Titanium Alloy skins for your suit, weapon, combat knife, and hatchet.
Wolfenstein: Youngblood trailer (announcement trailer & story trailer)
With Bethesda's portion of E3 2019 now over, we've been given the latest trailer of Wolfenstein: Youngblood just below. We've also added the official Wolfenstein: Youngblood story trailer released on March 27th, and the original E3 2018 announcement trailer to boot.

Wolfenstein: Youngblood is a spin-off
Wolfenstein: Youngblood is not the third major instalment in the rebooted Wolfenstein series, but a spin-off sequel to Wolfenstein: The New Colossus. We should look to their previous spin-off, 2015's Wolfenstein: The Old Blood, as a reasonable estimate of how long Youngblood will take to play through, and how much content we'll find packed inside.
The story of Wolfenstein: Youngblood
Youngblood marks a serious departure for the rebooted series in that it is the first game in which you don't control BJ Blazkowicz; instead, you experience the journey of his two daughters, Jess and Soph. The events of Youngblood leap forward twenty years after The New Colossus, taking place in the 1980s where the twins are all grow'd up and look to take after both Sarah Connor (in her sense of style) and BJ (in his desire to rid the world of the seemingly irrepressible Nazi regime).
The premise is that good old Papa Blazkowicz has gone missing in action over in Paris, and the kids must embark on a mission into France's capital, which is undoubtedly still heavily Nazified despite the attempts of the Kreisau Circle over the past two decades to rid the world of their enemies for good.
Wolfenstein: Youngblood co-op
During the game's announcement on the stage of E3 2018, Executive Producer of MachineGames, Jerk Gustafsson, revealed to tumultuous applause that Wolfenstein: Youngblood will indeed feature a fully functional co-op campaign mode. This means each of you will control one of BJ's twin daughters, and work in tandem to rain hell down upon all Nazis in your path.
But if the thought of finding a friend to play this with makes you perspire, don't worry; you can play through the entirety of Wolfenstein: Youngblood solo with an AI companion controlling the other twin if that's more your speed.
Wolfenstein: Youngblood combat
From the snippets we see in the announcement trailer, it looks as though one of the sisters is more of a close-quarters fan, as we see her spending the entire trailer wailing on a poor punching bag playing the part of Evil Nazi #1. The other sister appears to focus more on long-range gunplay, as we are treated to several shots of her with hunting rifle in hand, and one of her in the wilderness facing off against an unsuspecting ram playing the part of Evil Nazi #2.
So we can infer that the two sisters have different combat focuses. The combat in the story trailer looks as fluid and visceral as we've come to expect from the Wolfenstein games, so it doesn't look likely that there'll be too much disappointment in that regard.
Weapons and armour in Youngblood
During Youngblood's turn to take the stage during Bethesda's E3 2019 press conference, Gustafsson mentioned that the game will be "bigger than any previous Wolfenstein game", with more weapons and customization options than we've previously seen in the franchise. We're treated to many shots between the trailers of the Terror Twins clad in various kinds of power armour that bear a lot of visual similarities to the Da'at Yichud-manufactured super-suits we've seen in the previous games; and what's more, at the end of the announcement trailer one appears to be toting a Laserkraftwerk super-weapon, while the other sports an equally hefty Dieselkraftwerk super-weapon. Both pieces of tech featured prominently in the previous game, though this would be the first time we see both weapons together, as in The New Colossus you are limited to either one or the other.
That's pretty much everything we know so far of Wolfenstein: Youngblood; but we'll be sure to keep this page updated with any new details, trailers, and news as they arrive. So check back soon!