No ray tracing for Wolfenstein: Youngblood at launch
And there's no word on when it's arriving, either.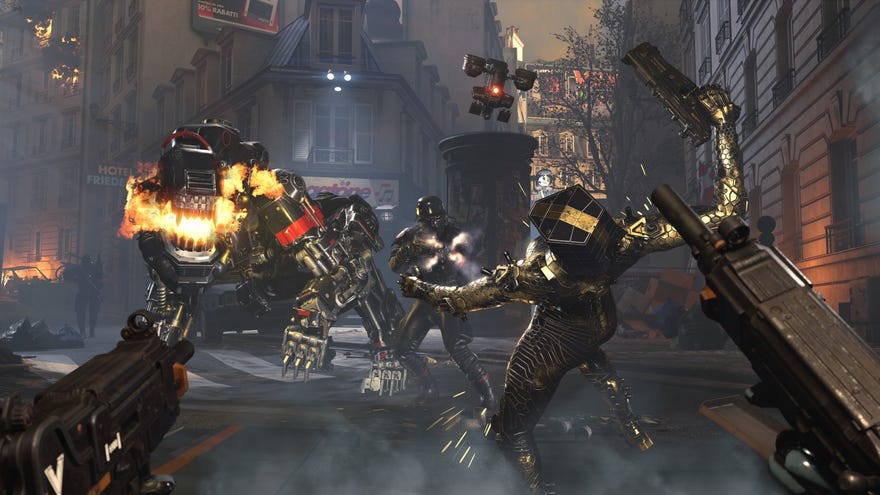 Wolfenstein: Youngblood may be one of Nvidia's current poster children for their ultra shiny ray tracing technology, what with it being one of the free games you get when you buy any Nvidia RTX graphics card right now, but it turns out the game won't actually have said ray tracing support when it launches this Friday on July 26. Speaking in an interview with GamesBeat, executive producer Jerk Gustafsson has revealed he doesn't actually know when the game's ray tracing support is going to arrive, as Nvidia's engineers are still tinkering with it.
"We're working together with Nvidia on that, but ray tracing won't be available at launch," Gustafsson told GamesBeat. "The engineers at Nvidia are still hard at work getting that solution to look as good as possible for the game, and the date is still to be determined. But from what we've seen so far, it'll be good."
In some ways, this isn't exactly surprising. Unlike its other free RTX game stablemate, Remedy's telekinetic shooter Control, there's been precious little information about Youngblood's ray tracing support from the get go. I've never seen or been sent any screenshots or trailers of the game in Nvidia's classic RTX On / RTX Off format, for example, nor have Nvidia divulged any details about exactly what kind of ray tracing support the game will actually have, either.
In fact, the only thing they've ever said on their GeForce website about Youngblood's RTX support is that it will have "cutting-edge ray-traced effects, and performance-accelerating Nvidia Adaptive Shading." That's it. With Control, on the other hand, they've specified it will have real-time ray traced reflections, contact shadows, and diffuse global illumination - and produced plenty of screenshots to show it all off, too, as you can see in my Control PC requirements breakdown.
Either way, here's hoping we don't have to wait too long before Youngblood gets added to our list of ray tracing games you can actually play, as I'm keen to see a) what it looks like, and b) whether Nvidia's variable rate shading tech will end up being a better tool for making up the ray tracing performance deficit than its upscaling DLSS tech. However, given Nvidia's previous track record with getting this stuff implemented, I wouldn't hold your breath. Anthem, for example, might have received its DLSS support just over a month after it came out, but it took half a year before Shadow of the Tomb Raider got its ray tracing and DLSS tech added in - and that was one of the big games Nvidia used to demonstrate the technology back when they first unveiled their RTX graphics cards at Gamescom last year.
Still, if you do fancy checking it out when it eventually arrives and have been thinking about upgrading to an RTX card in order to do so, then you've got until August 18th 2019 to take advantage of Nvidia's free Youngblood / Control games bundle.