Yes, Mistress - GLaDOS Is Back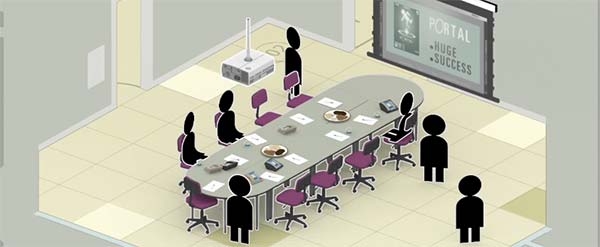 O frabjous day. For the first time in some three years, we're treated to brand new words from the world's second-favourite homicidal AI (SHODAN still has the edge, right?), Portal's GLaDOS. Her lilting synth-tones narrate a lovely animated ad pimping yesterday's free release of the original Portal, returning us to the heady days of Aperture Science motivational videos. That's not at all. The deceased (OR IS SHE? (she isn't)) robocrazy slips in a little tease for Portal 2 at the end, confirming that co-op play will be front and centre in the next round of physics-abusing adventures. Welcome back, missus.


Hooray! Especially for the Black Mesa tramp sta... tram... No, can't say it. The Black Mesa lower-back tattoo. Yes.
Also: now would be a really great time for John bloomin' Walker to finally transcribe the interview he did with voice of GLaDOS Ellen McLain back in 2007. Tell him to get on with it, readers.