Zotac MEK1 review: A pint-sized GTX 1060 powerhouse
Now you're playing with power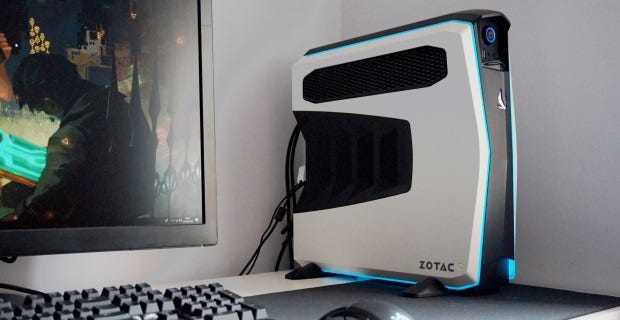 Building a PC can be pretty damn satisfying when you're not paying through the nose for one of today's best graphics cards and actually manage to get it all working when you first turn it on, but sometimes we just want someone else do the hard work for us - especially when that someone is graphics card extraordinaire Zotac and the PC in question is the delightfully diddy MEK1.
I say diddy - the MEK1 is still positively monstrous compared to Zotac's other collection of miniature media PCs and tiddly little NUC units they've made over the years. But at just over 418mm tall, a svelte 118mm wide and a sleek 415mm deep, this mini-ITX build is arguably one of the neatest kinds of gaming PC you can get that stills fit on top of your desk without it looking completely ridiculous - and its 6GB Nvidia GeForce GTX 1060 graphics card and Intel 8th Gen Coffee Lake Core i5 CPU aren't bad either. Let's take a look.
Priced at a little over £1170 in the UK, the Zotac MEK1 isn't exactly cheap compared to other pre-built systems with this kind of spec. As with anything pint-sized in the wonderful world of technology, though, it's those fun-size dimensions you're paying extra for - and a quick look inside the MEK1's case shows there's a fair amount of wiring gymnastics going on to squeeze everything in.
Still, I'd wager you're getting a much better bargain out of the MEK1 than a similarly-priced gaming laptop, for instance, and there's something very pleasing about being able to perch a PC on my desk without having to fumble around underneath and hauling it out every time I want to stick in another USB cable.
It is also, dare I say it, a rather pleasant-looking chassis. Yes, you're right in thinking it bears a striking resemblance to an overgrown Xbox 360 minus the disk-tray, but the more I gazed into the warm, soothing glow of its twin LED strips, the more enamoured I became with it. Unlike the higher specced black versions of the MEK1, the large stretches of white plastic here helped accentuate the colours fading in and out of its RGB halo ring (which you can always turn off, if you prefer), while the pair of black fan grills on either side provided a welcome sense of contrast.
It also comes with two little feet that slot in underneath to help keep it nice and steady, and the front I/O panel has a little plastic door that can hide its pulsing blue power button if it proves too distracting for you. You'll need to keep it open if you want to take advantage of its two USB3 ports or separate headphone and microphone jacks, but it's a nice touch all the same.
Speaking of ports, you get a sizable selection round the back of the MEK1, including another six USB ports (four of which are USB3), 7.1 channel audio with an S/PDIF output, dual Gigabit Ethernet, dual antenna connectors for its 802.11ac Wi-Fi (which are bundled in the box) and a legacy PS/2 port. Its GTX 1060 card also provides three DisplayPort 1.4 outputs and single HDMI 2.0 and DVI-D ports that can support up to a maximum of four external displays.
Speaking of which, let's talk games performance. Paired with a quad-core 3.0GHz Intel Core i5-7400 processor (alas, no Coffee Lake here, I'm afraid) and 16GB of RAM, the MEK1's GTX 1060 put in an admirable performance for such a small build, proving itself to be an almost flawless 60fps 1920x1080 machine that has enough chops to take things up to 2560x1440 with only a couple of compromises.
Starting with the ever-lovely Doom, the MEK1 breezed through its demon-infested hellscape with super smooth frame rates of around 100fps on Ultra at 1080p and between 60-70fps on Ultra at 1440p. I saw pretty much the same figures in Wolfenstein II: The New Colossus on its top Mein Leben setting as well, which is impressive for a PC our friend BJ Blazkowicz could probably crush with a single hand.
Hitman, likewise, slunk through its internal benchmark with a rough average of 67fps at 1080p on Ultra everything, and only dipped to around 53fps when I bumped up the resolution to 1440p. Orc murder simulator Middle-earth: Shadow of War, meanwhile, was a little choppier in its execution, but still came in with an effortless 54fps at 1080p on Ultra and a very reasonably 44fps at 1440p (also on Ultra).
Its gaming muscle began to wither slightly when it came to Rise of the Tomb Raider's demanding SSAA, as even at 1080p it only managed to wade through its internal benchmarking suite with an overall average of 36fps on Very High. Drop the anti-aliasing down to its lowest FXAA setting at the same resolution and graphics option, however, and you'll see frame rates power back up to a silky average of 68fps. I'd recommend doing this when playing at 1440p as well, as the best you're going to get on Very High with FXAA is an average of 45fps.
Strategy fans may have to absorb a couple of losses in the graphics department as well if they've got their eye on 60fps, as playing Total War: Warhammer II at 1080p on Ultra only yielded around 50fps across its internal battle, campaign and new Skaven benchmarks. Dropping down to High saw its speed restored to 60fps, but those playing at 1440p will likely have to beat a retreat even further back to Low for these kind of numbers, as even Medium only produced an overall average of around 50fps at this resolution.
Assassin's Creed Origins took a bit of a beating as well on its highest graphics settings, but I still managed around 57fps on High at 1080p - which was confusingly deemed 'Medium' performance by Ubisoft's internal benchmark - and a so-called 'Stable' 42fps average using the same setting at 1440p - which is pretty admirable considering it's such a demanding game.
Alas, even the Witcher III couldn't quite work its magic on Ultra at 1080p, conjuring between 40-50fps depending on whether I was outside or in a densely populated town. High, on the other hand, went down a treat, hitting the full 60fps regardless of location. Anyone aiming to play at 60fps at 1440p, however, will have to settle for Medium.
The MEK1's biggest test, however, was Final Fantasy XV and its myriad of shiny Nvidia effects. Turn everything off, and you can still get a respectable 60fps on High at 1080p, but even switching on just Hairworks and Turf Effects saw this tumble to around 40-45fps. That's still eminently playable, of course, but try enabling ShadowLibs and VXAO as well and it'll feel like you've cast Slow instead of Haste. 1440p players, meanwhile, may have to call it a day at Average, as all I was able to manage with every Nvidia effect turned off was a rough average of 40fps.
Still, I'd say that's still a decent set of results for such a compact PC. On the whole, I was able to play at High or, er, higher in most cases, and only in a couple of instances did I have to settle for something a bit more middling - and that was usually only when I moved up to 1440p. As a 1080p machine, therefore, it's a very neat little package indeed, infinitely preferable to the rocket-whirring din of a gaming laptop and a heck of a lot smarter than your average entry-level tower build.
With a bit of fiddling around in its chassis, there's potential to upgrade it at a later date, too - despite Zotac's large 'DO NOT TOUCH' sticker plastered over the MEK1's GPU and the fact that you'd technically be breaking its warranty in the process. You'd have to know what you were doing given this isn't your typical PC build (and make sure any potential graphics card replacement you get actually fits inside its tight size constraints), but provided you've got the expertise, there's definitely a lot more wiggle-room here than, say, a similarly priced laptop.
I must admit, it's a shame Zotac have only fitted out the MEK1 with one of Intel's 7th Gen Kaby Lake Core i5s instead of a newer 8th Gen Coffee Lake one, but you're still looking at a highly capable CPU that provides more than enough oomph for most of your daily computing tasks.
With Geekbench 4 results of 4358 in its single core test and 12653 in its multicore test, the MEK1's quad-core 3.0GHz Intel Core i5-7400 easily surpasses the kind of speed and efficiency you can expect from a Core i7-7700HQ gaming laptop such as the Alienware 13 and Dell Inspiron 15 7000 Gaming, and its single core performance sits roughly between AMD's Ryzen 5 2600 and Ryzen 7 2700 chips.
What you're mainly losing out on with Kaby Lake, however, is its multicore performance, as the introduction of Coffee Lake finally saw Intel make the jump from quad-core Core i5 CPUs to six. The difference was made pretty stark in my benchmark results, too, with the Ryzen 5 2600 belting ahead of the i5-7400 with Geekbench 4 results of 20752, while Intel's Core i5-8600K goes further still with 21454, showing a respective increase in speed of 64% and 69%.
The same thing happened in Cinebench R15 as well. The MEK1 came in just behind its modern rivals in the single core test with its score of 146, but its multicore score of just 539 was miles behind, showing a decrease of 48% compared to the i5-8600K and 57% compared to the Ryzen 5 2600.
To be honest, though, I'm not overly bothered by it. You might feel the difference if part of your MEK1 plans involve using it for lots of intensive photo and video editing, but I doubt you'll really notice the difference anywhere else.
Indeed, when Zotac have also kitted out the MEK1 with a 240GB NVMe SSD (in addition to a 1TB HDD for all those lovely game installs), the MEK1 feels pretty damn nippy in day-to-day use. Windows loaded in a flash, and I never felt like I was left waiting when doing a light bit of picture editing. Admittedly, the MEK1's SSD still has some way to go before it can match the lightning fast sequential speeds of the best SSDs like the Samsung 970 Evo or WD Black 3D NVMe SSD, but its random read and write speeds aren't actually that far behind the competition.
In AS SSD's random 4K test, for instance, the MEK1 managed a respectable read speed of 50.2MB/s, which plonks it right in the middle of the 970 Evo and WD Black's results. Its write speed of 100.8MB/s wasn't quite so impressive by comparison, in truth putting it more on par with a traditional 2.5in SATA SSD such as the Samsung 860 Evo than the WD or 970 Evo. Much like the CPU conundrum, though, this isn't a massive problem in my eyes. Besides, sticking anything more upmarket in here would likely only make the MEK1 even more expensive than it already is. Assuming this is a cost-cutting exercise, this is a compromise I'm willing to put up with.
Stumping up over a grand for any kind of PC purchase - be it a laptop or ready-made PC - is, of course, not a decision to be taken lightly. After all, at that kind of price, you want to be sure you're getting your money's worth. For me, Zotac's MEK1 ticks a lot of boxes. It's small, powerful, has decent enough storage and is probably one of the most attractive gaming PCs I've ever tested and used on a daily basis. Some small-form factor PCs are more trouble than they're worth - and I should know, having put up with Silverstone's FT03B mini tower case for a number of years - but the MEK1 straddles that line between friendly practicality and compact loveliness far more effectively than other cases I've used in the past.
Yes, you can buy a similarly-specced PC for a lot less that's both easier to upgrade and take apart in the future, and yes, that one probably won't produce quite such a loud and audible hum as the MEK1. You can also get a slightly more modern equivalent spec with a proper Core i5-8400 Coffee Lake chip in it and a touch more storage for an extra £20 or so. But you're also looking at getting a large, heavy black box that's probably going to have to live under a desk at that kind of price, which is why the MEK1 is so damn appealing. Maybe it's just me, but there's something innately pleasing about having my PC in full view on my desk instead of tucked away and hidden beneath it, and when I don't have to deal with the faff of having to build it myself, that's even better. It gets a thumbs-up.