AMD Ryzen 7 2700 / 2700X review: A tense showdown with Intel's Coffee Lake Core i7s
Ryzen from the ashes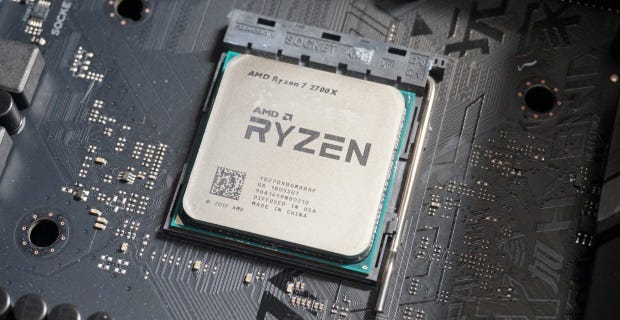 AMD's 2nd Gen Ryzen+ CPUs have put on a pretty impressive show so far, from the entry-level Ryzen 3 2200G and Ryzen 5 2400G with integrated Radeon Vega graphics right up to the mid-range Ryzen 5 2600 and 2600X - which for my money are better buys than Intel's current crop of 8th Gen Core i5 chips. Now it's time to look at AMD's pair of flagship processors for 2018, the Ryzen 7 2700 and its souped-up counterpart, the 2700X.
With eight cores and 16 threads each, these top-end CPUs are AMD's answer to Intel's fancy 8th Gen Core i7 Coffee Lake chips, most notably the Core i7-8700 and its unlocked, overclockable sibling, the Core i7-8700K. Can AMD pull off that coveted hat-trick of best gaming CPU brilliance? The answer would appear to be... sort of, just about, but also not quite.
From a money-saving point of view, there are a lot of things AMD get right - and goodness knows we all could do with a bit of that these days given the current price hikes of today's best graphics cards, RAM and literally everything else involved with building a new PC.
Firstly, they've had the good sense to include a cooler - and fairly substantial coolers at that - in the box with each chip, which is something last year's Ryzen 7 1700X buyers sadly missed out on. With the Ryzen 7 2700, you get the RGB Wraith Spire cooler, while the 2700X nets you the even beefier, direct-contact heat pipe-equipped Wraith Prism (pictured below), whose RGB USB header gives you per-RGB light control around the ring and its transparent fan blades (just make sure you download the somewhat hidden software for it from CoolerMaster before you begin).
You don't get any of that when buying Coffee Lake, and neither do you get the chance to potentially reuse your current motherboard to save yourself even more cash either. For while Intel's 8th Gen Coffee Lake chips still use LGA 1151 socket motherboards, they're only compatible with 300-series chipsets, which means you have to upgrade your motherboard at the same time as buying a new CPU.
AMD, on the other hand, have pledged to support their AM4 socket motherboards until at least 2020, and all Ryzen+ chips, including the Ryzen 7 2700 and 2700X, will work with every pre-existing AM4 board that's currently on sale. Existing AM4 owners will likely need to perform a BIOS update to make sure you can slot them straight in (unless you fancy upgrading to the new X470 motherboards which have Ryzen+ support straight out of the box), but it's a welcome gesture nonetheless.
There's also the rather nice bonus that both the Ryzen 7 2700 and 2700X currently cost less than their predecessors did when they first came out a year ago, saving you $30 on the 2700 and $70 on the 2700X. You're still looking at laying out considerably more than the pair of 2nd Gen Ryzen 5s, of course, but even at £257 / $292 for the 2700 and £283 / $325 for the 2700X, they're still cheaper than buying a Core i7, as the 8700 currently costs £269 / $302, while the 8700K will set you back £320 / $350.
Already, then, the Ryzen 7 2700 and 2700X are look pretty tempting, and that's without having even opened the box. So let's get down to the nitty gritty of performance.
On paper, you'd be forgiven for thinking the 2700 and 2700X are just slightly enhanced versions of their 1700 and 1700X predecessors. It would certainly look that way from glancing at their respective base and boost clock speeds (see the table below for a full summary), but most of Ryzen+'s biggest new features aren't really visible from their various spec sheets.
| | | | | |
| --- | --- | --- | --- | --- |
| CPU | No. of cores / threads | Base clock speed | Boost clock speed | Thermal Design Power (TDP) |
| | 8/16 | 3.0GHz | 3.7GHz | 65W |
| | 8/16 | 3.2GHz | 4.1GHz | 65W |
| | 8/16 | 3.4GHz | 3.8GHz | 95W |
| | 8/16 | 3.7GHz | 4.3GHz | 105W |
Instead, what Ryzen+ really brings to the table is accessibility, allowing you to get the best speeds out of your CPU wherever possible without even the vaguest whiff of having to tinker around in your motherboard's BIOS settings and start overclocking them manually. And it's all down to AMD's new and improved Precision Boost 2 and XFR 2 (or Extended Range Frequency 2) tech.
Provided there's enough thermal headroom on offer, Precision Boost 2 runs each core as fast as possible whenever it can, giving you better multitasking performance when the CPU isn't completely maxed out, such as playing and streaming games simultaneously or editing photos while browsing the web.
XFR 2, meanwhile, will keep boosting the clock speed up to 100MHz over the processor's max limit when temperatures allow. Admittedly, you'll probably need a beefier cooling system in place than the stock coolers that come in the box to really see the benefits of XFR 2, but there's no denying that together these two bits of tech make both Ryzen 7 chips a lot more user-friendly than previous generations of AMD CPU. Indeed, if you do start overclocking them manually, both PB2 and XFR 2 get turned off, which can actually result in worse performance unless you overclock each chip close to their max boost clock speed.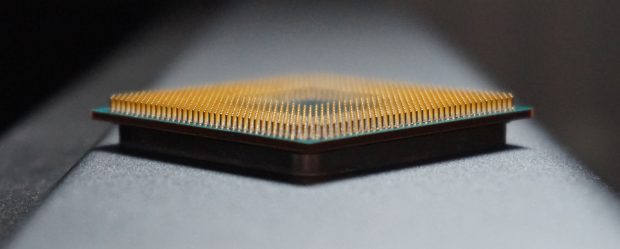 As such, I've tested both chips as they come out of the box, pairing them with an Asus ROG Strix X470-F Gaming motherboard, 16GB of G.Skill Sniper X RAM, an Nvidia GeForce GTX 1070Ti graphics card and a Samsung 850 Evo SSD. Starting with Cinebench R15, which uses Maxon's real-world Cinema 4D engine to render a complex, photorealistic scene of 3D orbs and baubles replete with anti-aliasing, lighting and other CPU-draining effects, both Ryzen 7 chips put in fairly respectable performances. Sort of.
In terms of single core zippiness, the Ryzen 7 2700 doesn't fare particularly well. Its Cinebench score was just two points ahead of the Ryzen 5 2600X, for example, which by extension means it's neither as fast as Intel's Core i5-8600K, or either of its Core i7 rivals.
In a way, it's not surprising given the 2700's lower base clock speed of 3.2GHz (the 2600X starts at 3.6GHz), but even the Ryzen 7 2700X (which has a base clock of 3.7GHz), only managed a 5% improvement over its non-X 2700 counterpart - and even that still isn't as good as what I got out of the Core i5-8600K.
Single core performance, then, isn't Ryzen+'s strong point, but historically this has always been an area where AMD have suffered compared to Intel. Instead, the real benefits come when you turn to AMD's multicore performance, which in turn has often tended to be Intel's main weakness.
The Ryzen 7 2700, for instance, sailed past everything but the 2700X in Cinebench's multicore test, offering a 14% boost in speed over the 2600X, a massive 32% improvement over the Core i5-8600K, and a rise of around 9% compared to the Core i7-8700K. The 2700X was even further ahead, coming in 13% faster than the regular 2700, and a sizable 21% quicker than the Core i7-8700K.
That 13% jump over the Ryzen 7 2700 is significant, too, as it makes the 2700X feel like a proper upgrade compared to the situation between AMD's two Ryzen 5 chips. Here, the 2600X only offers a mere 5% bump over the regular 2600 - and that's in both single and multicore performance. When both X variants cost around £20-25 / $30 more than their non-X counterparts, your money's definitely going a lot further with the 2700X than it is the 2600X.
I saw similar results in Geekbench 4, too, although here the Ryzen 7 2700 actually came in just behind the Ryzen 5 2600X on single core performance rather than just ahead of it. Still, the difference in multicore performance played out much the same way, with the 2700X emerging victorious over its Intel rivals once again.
When it comes to playing games, however, there seems to be much less in it, regardless of whether you go for one of the Ryzen 7 chips, a Ryzen 5, or one of Intel's lot. Of course, your CPU isn't exactly the most critical component when it comes to gaming, but it's still important for certain physics effects and particle bits and pieces when there's a lot happening onscreen.
Indeed, when I put them through Rise of the Tomb Raider's internal benchmark, which sees Lara stand on top of the snowy mountain from the beginning of the game, gaze in wonder at the rushing waterfalls from the early-on ruins in Syria, and do a camera sweep through the misty haze of the late-game's demanding geothermal valley, both Ryzen 7s spat out almost identical frame rates to the Ryzen 5s on Very High, regardless of whether I ran them at 1920x1080 or 2560x1440.
The Ryzen 7s were ever so slightly ahead at 1920x1080, but we're only talking a jump from 62fps to 64fps compared to the bang-on overall average of 40fps they produced at 2560x1440. Even their individual scores across all three benchmarks at 1080p were pretty much the same, and it was only really the 2700X that showed any vague signs of superiority - and even then you're still only looking at a margin of one or two frames across every test. When you're already running that close to 60fps anyway, this isn't something you're actually going to notice in practice unless you've got a frame rate counter going in the corner of your screen.
The Intel Core i7 chips, meanwhile, scooted ahead slightly at both resolutions, but at 1440p you're once again looking at an improvement of just a couple of frames. At 1080p, you might get roughly another 5-10fps, but again, unless you've got a high refresh rate monitor that does more than 60Hz, this kind of improvement isn't something you're likely going to be able to see with your naked eye if you've got a high-end graphics card.
Even if you don't have a GTX 1070Ti at your disposal, though, is another potential 10fps really worth paying the extra £40 / $25 you'll need to spend over to get the Core i7-8700K, not to mention the additional cash you'll need to shell out for a cooler as well? Personally, I wouldn't say it was, especially if you're in UK where the price difference is more pronounced than it is in the US, but there are cases to be made in Intel's favour.
For instance, if you're largely going to be using your PC for gaming and nothing else, then Intel's superior single core performance and ever so slightly better gaming chops may well be enough for you to tip the scales in the direction of the 8700K, regardless of all the extra cost involved. After all, it's not like a chip with this kind of power won't have enough oomph to handle simultaneous streaming and other multitasking gubbins effectively, so even if it isn't quite as good as the Ryzen 7s on paper, it will still do one heck of a decent job at it.
Then again, if you're more of a creative type of regularly deals with editing photos and videos as well as all the streaming paraphernalia while playing games, then I'd definitely err toward the 2700X. It's arguably a much better value proposition than the regular 2700 for day-to-day computing (and definitely better value than either of the Core i7s just generally as well), and the 2700X gets you a much fancier cooler out of it, too.
Really, though, both of AMD's Ryzen 7 and Intel's Core i7 processors are a bit overkill for your average gaming PC, and you'd probably be perfectly happy by opting for the significantly cheaper £169 / $200 Ryzen 5 2600 instead, which, in my books, is a much better buy than both the 2600X and the Core i5-8600K. Still, if you've got the cash to spend and are adamant about having the best of the best, then the Ryzen 7 2700X certainly makes a very compelling case against Intel's Core i7-8700K. It all just depends on what type of PC you're looking to build, and whether you'd rather save a bit of cash in the process.