He's On A Boat: Assassin's Creed III Footage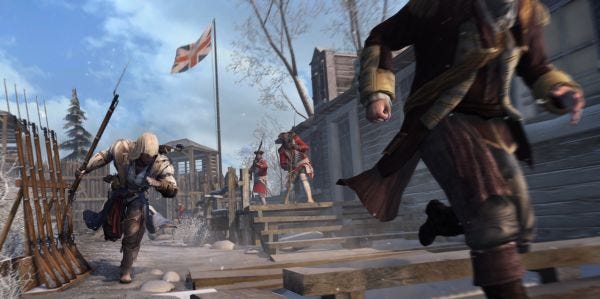 Assassin's Creed III done released a big pile of video last night, along with four new screenshots. There's a silly CGI trailer that helps no one, but also a great big chunk of in-game footage that shows off the sneaky, jumpy, stabby and animal-hurty ways of a far more rural Assassin, and then some of the ship combat. Click on the pics for bigger versions, and see the trailers below.
First of all there's a completely pointless CGI trailer that tells us nothing useful whatsoever, but sure looks pretty, and importantly, features exactly no sexy nuns:
It's "whom".
But rather more usefully, there's seven minutes of in-game footage. Look out for the main star, the wobbly hood:
It really is defiantly not in a big city, isn't it? Combat doesn't look very contacty, but certainly seems to offer lots of variety. Although for me this looks primarily to be a tree climbing simulator, and for that I want it bad.
And then there's this:
Boats! Fighting! Coo! Journalists hollering like Justin Bieber fans! Claimed to be released on the 31st October this year, the John Walker Principle puts that somewhere around February 18th, 2013.