A wall-destroying quad bike will soon crash into Fortnite
That name again is Mr Plow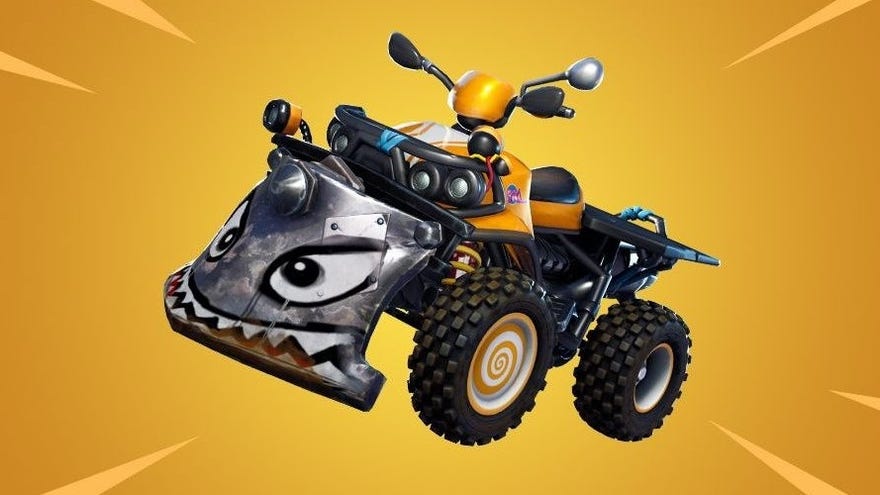 You think you're safe, tucked up in that tower of yours. The tried and tested lattice beneath you stands firm, far too robust for explosives or hammers to rob you of your lofty hideaway. Then you hear it. An ominous purr. A splintering of wood.
A quad bike is about to ride up to Fortnite Battle Royale. He's got an angry face, and a functional battering ram.
That fella up there is called the Quadcrasher. He's no good at making conversation at parties, but he can charge up a boost and ram through structures. Which structures, you ask? I don't know which structures, I respond.
We know about him thanks to an in-game "coming soon" news screen, which just includes that pic, the name and a single sentence: "charge the boost to crash through structures or get some air!". For the time being, his exact destructive capacities remain unknown - but I'm hoping Epic Games go wild with it. I want these Quadcrashers to be monsters, striking fear into the hearts of people even if they're cowering behind metres of metal.
In other news: apparently all you need to do to make me personify a machine is to stick a face on it. I already catch myself chiding Alexa like she's a misbehaving brat, so if I stuck some googly eyes on her I'd probably wind up not asking her to do things out of politeness.
There's actually a growing body of study on human-robot relations, with a particular interest in how they interact with children. A few years back some researchers tried to figure out why groups of Japanese children were so keen to beat up a friendly mall robot, and wound up programming the robot to run away from anyone below a certain height and into the arms of presumed grown-ups. Earlier this year, some other researchers made a robo-turtle that shrank away from abuse so that kids would feel guilty about attacking it.
Wait, I'm supposed to be talking about Fortnite. We don't know when the Quadcrasher will make it into the game, though I'm told there's been a short turnaround on teasers like this before. My guess is that we'll meet him properly next week.
Still trying to get to grips with Fortnite? Check out our Fortnite guide hub for more tips and tricks for the game. You can also find the latest challenges in our Fortnite week 6 challenges guide.